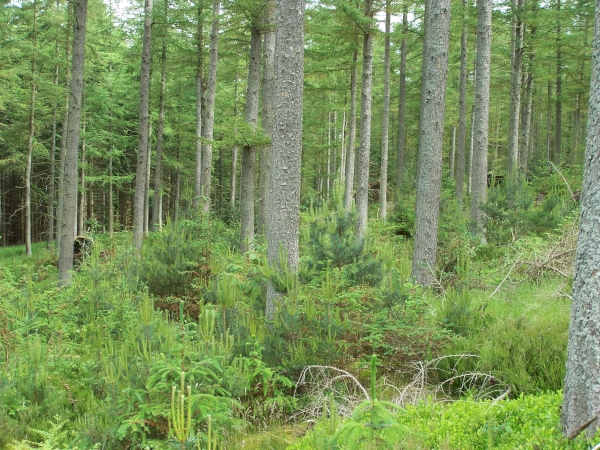 A quiet open woodland populated by towering larch, Heather Bank Wood is well worth a closer inspection.
A track winds through the surrounding woodland, leading to a flat parking area between the trees. Wandering onwards, a vibrant and diverse carpet of woodland plants, is quickly revealed. Scattered among the established larch, self seeded holly, rowan, billberry and heather provide a perfect haven for a wide variety of wildlife. Roe deer can often be seen springing from cover, leaving forms, tracks and scrapes as evidence of their presence .A rustic bench invites a moment's rest and with luck a sighting of a darting lizard will reward patience.
At the far end of the wood flows a babbling brook, supporting a wholly different ecosystem and addding variety to the landscape.
Only a short drive from regional centres,Heather Bank Wood is an oasis of peace and tranquility beneath spreading branches.Whether your interest is wildlife, conservation, or outdoor living, this wood provides the perfect opportunity to pursue these interests.
Access: Is through a wooden field gate off the B6307 then along a shared track to a ridestop leading to a turning area in the wood.
Surrounding Area: Heather Bank Wood is part of a larger area of woodland which runs down to the River Tyne. The Tyne is considered to be England's best salmon river which together with sea trout runs gives the opportunity for excellent fishing. This is a quiet rural setting with many public footpaths with good walking. Nearby is Hadrian's Wall with the more challenging Hadrian's Wall Long Distance Path.
The purchasers of the woodland will be asked to enter into a covenant to ensure the quiet and peaceful enjoyment of adjoining woodlands and meadows.