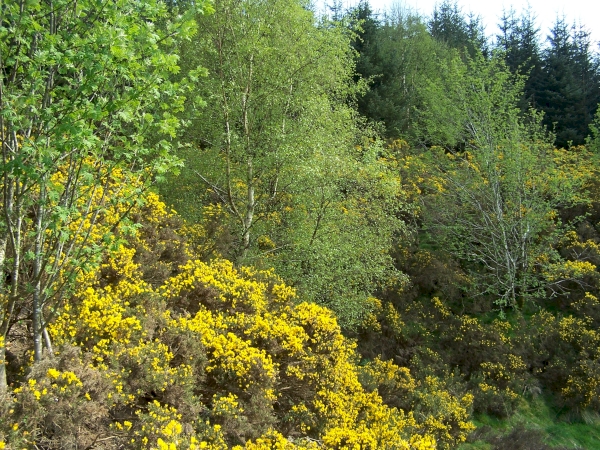 At the roadside of the upland route from Lauder to Galashiels, Whinnybank Wood provides seclusion, yet has easy access.
A recently compacted track leads from the main double gate to a ridestop, which opens on to a well-constructed track and parking area. Leaving the car behind, an old forest track heads to the heart of the wood. Newly made paths invite exploration and reveal secluded glades with views of the surrounding pastures.
Younger broadleaves fringe the conifers, and lead down to the bubbling burn. A host of vegetation takes advantage of the damp stream-side habitat and an occasional darting fish can be glimpsed through the water.
Rarely a visit goes by without a sight of a roe springing from cover. On a sunny day the common lizard basks to gain energy for invertebrate pursuit. A birdsong symphony indicates a strong feathered presence and with patience the owner will be well-rewarded by sightings.
Camping areas invite a longer stay, to further a nature lover's interests. Woodland management and conservation opportunities abound in this tranquil haven.
Access: is off the minor public road as shown on the detailed map along shared grass and stone tracks into the wood.
Surrounding Area: Whinnybank Wood lies amongst attractive wooded glens and rural surroundings between the Leader and Gala river valleys, both tributaries to the River Tweed. The scenic Lammer Hills and Tweed Valley lie further to the east and west respectively. The Royal and Ancient Burgh of Lauder is a thriving town with historical significance lying on one of the main north-south routes used since Roman times. Thurstan Castle, dating back to the 16th century, is a visitor attraction on the outskirts of Lauder. The coast-to-coast "Southern Upland Way" walking route crosses the Lauder Burn valley about 1 mile up the road towards Lauder. Edinburgh, Galashiels, Melrose, Selkirk and Coldstream are all within 30-45 mins drive.
Covenant: there is a covenant on the wood to ensure the quiet and peaceful enjoyment of this and the surrounding woodlands.