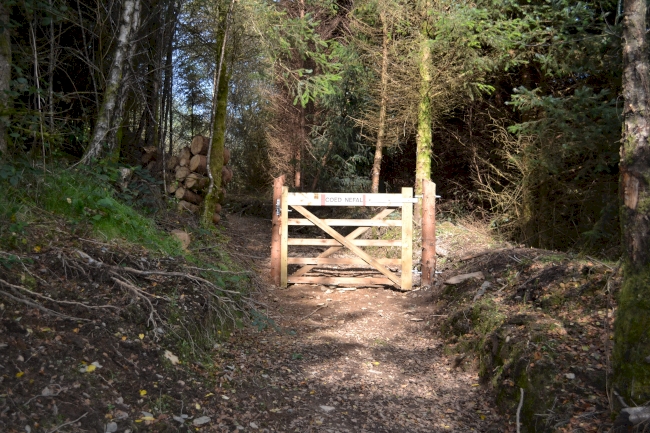 Located along the eastern slopes of Craig Chwefri, Coed Nefal is predominantly a coniferous woodland with areas of mixed broadleaf, including alder, oak, willow, silver birch and hazel. Access to the woodland is via a good track which winds through the eastern part of the woodland. There is room to park in Coed Nefal, and in a shared parking area lower down the track (see the maps).
You can enter Coed Nefal via a gated footpath at the south eastern corner of the wood; this footpath will take you to a clearing which would make a perfect camping or woodworking area. Here you will find a small stream running alongside the northern edge of the clearing providing a water source. Just off the clearing area, a footpath has been carved through the woodland allowing good walking access. There are endless possibilities to create additional tracks thorough the spruce. The "fungal community" within Coed Nefal is diverse and identified species include ceps, beefsteak, fly agaric and yellow stagshorn. There are many edible mushrooms within this woodland, however identification is strictly a task for an expert. The footpath joins another footpath which spans the whole of the Coed Nefal boundary. Parts of this path are boggy wetland and contain interesting moss and lichen, as well as ferns and bilberry. A further section of woodland can be found east of the access track to the woodland and contains a similar assemblage of tree species and access to the road by foot.
The woodland is alive with the sounds of song birds, and some of the wildlife that has been spotted here include woodpecker, raven, owl, red kite, jay, fox and badger. There is potential to undertake thinning of the area of spruce to further encourage the diversity of woodland wildlife and introduce some different tree species. Coed Nefal can be very much enjoyed for its peace and tranquillity as an area of conservation, much like the surrounding area, which is owned and managed by the National Trust.
Coed Nefal is part of a larger woodland known as Cwm Clyd, four miles from the village of Newbridge-on-Wye, which as the name suggests is located along the River Wye. Historically, Newbridge-on-Wye developed as a settlement as it was a stop off point for drovers (livestock movers), near a safe crossing point over the river Wye. Newbridge-on-Wye is located in the middle of Wales, 7 miles south of the historic market town of Rhayader, with Builth Wells to the south, and the spa town of Llandrindod Wells in the east. The woodland offers a perfect location for exploring both Wales and parts of England.
***********************************************************************************************
These particulars have been prepared by local manager George Palmer. Photographs were taken by local manager David Colley in September 2012.
The purchasers of the woodland will be asked to enter into a covenant to ensure the quiet and peaceful enjoyment of adjoining woodlands and meadows.