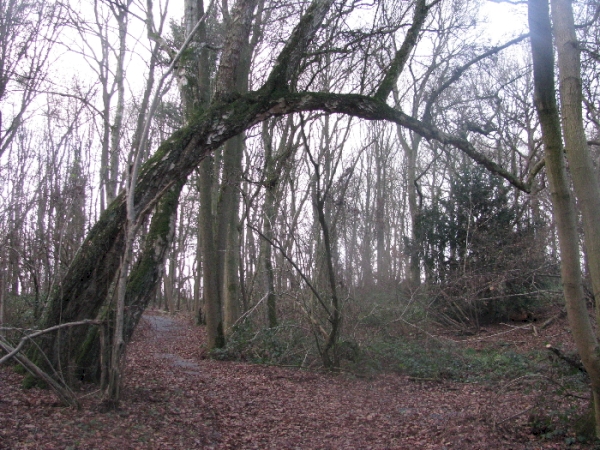 Ridge Hill Wood is part of the larger Knockerhill Wood. At the main entrance there is a wooden gate that gives way to a large hard standing area which can be used as a carpark. A good track that is suitable for vehicles meanders through the woodland until arriving at Ridge Hill Wood where there is a 'pull-in' to park a vehicle off the main track. At the end of the track beyond Ridge Hill Wood there is another hard standing area where a vehicle can be turned round.
Ridge Hill Wood is a very secluded ancient woodland, which has some stunning mature broad leaf trees which include oak, ash, and silver birch . There is a well established understory of young trees and shrubs, such as hazel coppice, ash saplings, holly and rowan. The land is generally level with some gentle variations in the landscape. There are some lovely natural open areas that would be ideal for creating a woodland 'base' for camping and woodland activities. Alternatively these areas could be used for introducing new tree species which would encourage the biodiversity of both the trees and the wildlife that visit the wood.
This woodland has remained largely untouched for the past 50 years. As a result, Ridge Hill Wood is a real haven for wildlife, some of which are Dormice, badger, fox, kestrel, peregrine, barn owl and fallow deer.
Sites of mature ancient woodland such as this are rare in the UK and a new purchaser will want to manage in ways that protect and preserve the mature trees and wildlife.
Knockerhill Wood has been designated by Herefordshire Nature Trust and Herefordshire Council as a "Special Wildlife Site": somewhere that contributes significantly to biodiversity conservation and the wildlife network.
The purchasers of the woodland will be asked to enter into a covenant to ensure the quiet and peaceful enjoyment of adjoining woodlands and meadows.