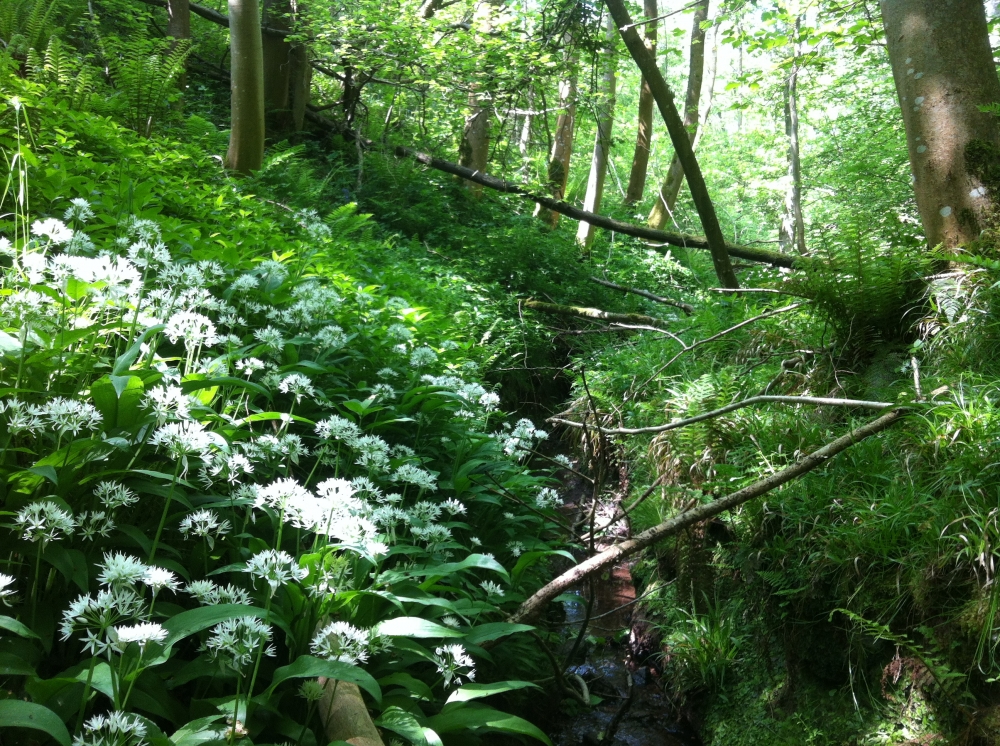 Feldspar Wood takes its name from the mineral rich ground that makes up this delightful rural area between the Malvern hills to the south and the Shropshire hills to the north. This composition of common minerals is known as Feldspar and is a fertile climate for a rich variety of woodland ground flora.
This long established woodland on a gentle southwest-facing slope is characterised by some remarkable veteran trees of oak and sycamore and by more recent regeneration of the understory of birch, holly and hazel. The sunny aspect encourages dense formations of bluebells in the clearings and for the forager, an impressive profusion of wild garlic ( Allium ursinum ) clings to the fertile banks of a small stream that has cut a steep sided gulley through the woodland.
There is track access to the wood's entrance where there is ample space to park and set up forest base camp within the large flattish areas that run alongside. This variable terrain is likely to have led to the diverse ground flora which includes the luxuriant hart's tongue fern, dog's mercury, stinking iris, bluebells and ransoms. Roe deer are regular visitors and the dormouse is believed to inhabit the area along with many species of bat. Numerous bird species enjoy the seclusion, including buzzard, chiffchaff, treecreeper and goldcrest.
Nearby is the attractive market town of Cleobury Mortimer, which is a good staring point for further exploration of the nearby Wyre Forest. Today this thriving market town has a range of everyday facilities.
These particulars and plans were prepared by local manager Daniel Sharp.
The purchasers of the woodland will be asked to enter into a covenant to ensure the quiet and peaceful enjoyment of adjoining woodlands and meadows.
Boundaries:
Boundaries are indicated by blue markings on posts and trees. The northern edge of the wood is bordered by the access track and the southern edge is along the open fields to neighbouring farmland. Other boundaries are indicated by blue coloured marker posts running through the wood.