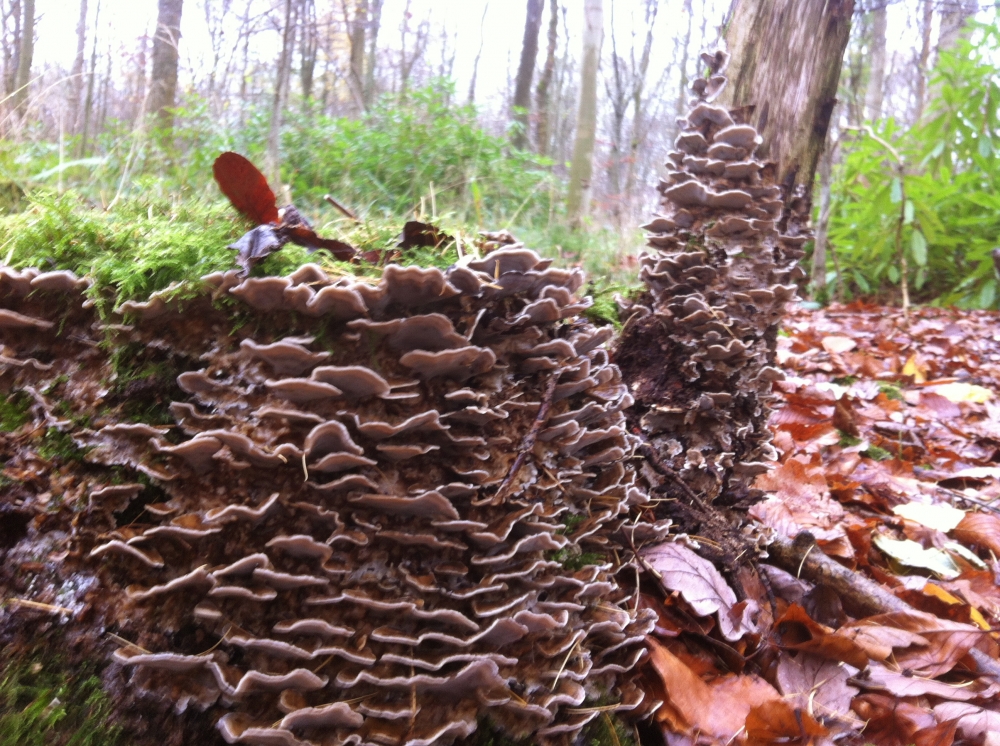 Once within the wood there is a delightful atmosphere beneath the dense canopy of oak, birch and holly. There are some other interesting varieties including alder and hornbeam and as late summer sun fades to autumn the subtle pallet of colours begins to change. Looking down as well as up, there is much to discover. The Turkey Tail fungus is a remarkable mythological marvel found on old stumps. Like an iceberg there is much more beneath the surface than above ground as the network of intricate mycelium spreads far and wide beneath the woodland floor.
The gently undulating ground is full of interest to the wildlife observer. From the deer slots or hoof prints that mark the animal tracks between the towering trees, to the tiny frame of the tree creeper disguised against the bark. These elusive birds have been spotted in the woods here in the winter and autumn and the preservation of their woodland habitat means that there is now a healthy and stable population in this area.
The Muntjac deer also thrives here. It lies low until disturbed at incredibly close quarters, when its chunky, squat frame moves with surprising agility through the trees with its tail held high and a distinctive barking alarm call.
Foxhill Wood is so named, as are so many old place names, by reference to events that took place there and so it was that this habitat was the perfect refuge for the shy woodland predator. Beyond the boundaries of Foxhill Wood neighbouring woodland is now enjoyed in private ownership. The wider surrounding area is made up of open countryside but with good access to the towns of Redditch and Bromsgrove nearby for essential supplies before a retreat to the woods.
These particulars and plans were prepared by local manager Daniel Sharp.
The purchasers of the woodland will be asked to enter into a covenant to ensure the quiet and peaceful enjoyment of adjoining woodlands and meadows.