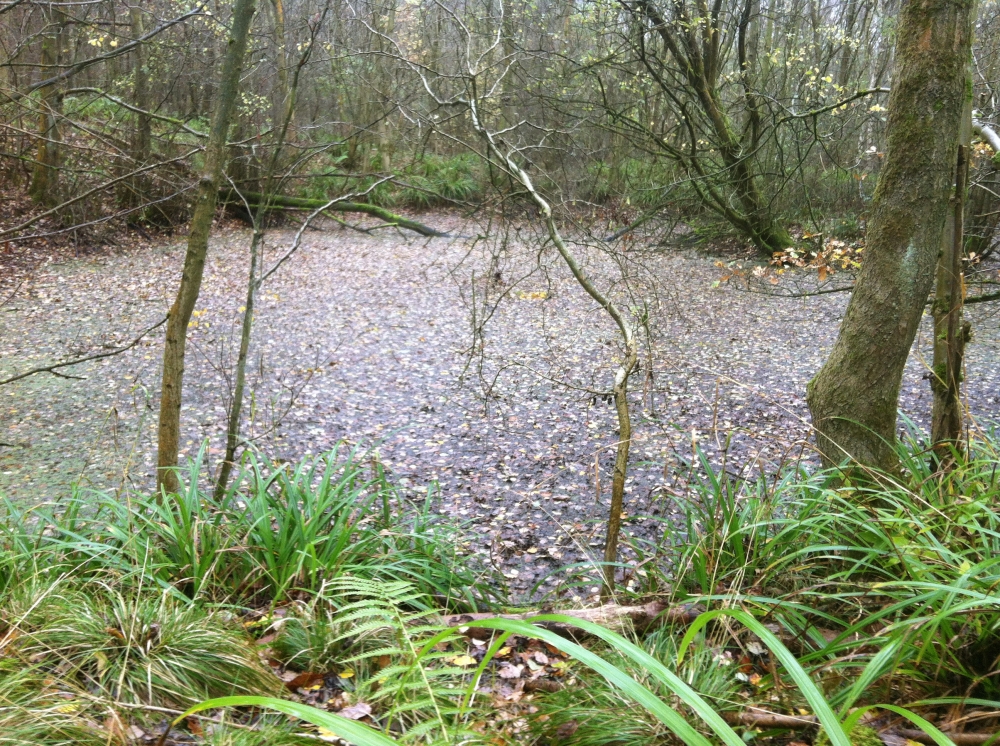 Milton Wood takes its name from the Milton series of soil classification that is characterised by deep loamy soils of the type found in the area, and that make the surrounding countryside such attractive and productive farmland.
Milton Wood has a very remarkable and attractive feature in the form of a large woodland pond that is a tremendous draw for wildlife in the area. This body of water is thought to date back to the second world war when enemy bombers shed their payload during raids on the Austin factory in nearby Longbridge.
The inadvertent legacy of this period is a far cry from these troubled times. The pond at Milton Wood is now a place where life in many forms can thrive. The balmy summer's evening air is alive with the chorus of croaking toads, feasting on the waterborne insects. A variety of mosses and algae flourish in the watery shadow of towering oak, ash and alder. Stunning woodland flora lie undisturbed in the grassy clearings. Amongst these are the common spotted orchid and the purple flower of the hedge woundwort - that is such an irresistible draw for bees and is thought to have been used in traditional medicine due to its healing properties.
Light from the adjacent open field penetrates through the dense tree cover, stimulating growth of woodland plants and grasses on the forest floor. A small tin shelter by the entrance, with a bit if attention could provide useful tool storage for the family forestry projects that await
A short stroll from Milton Wood the Worcester and Birmingham Canal winds its way through the rural landscape as it has since 1815 when it was constructed to facilitate the journey from the numerous workshops of Birmingham to The river Severn at Worcester and the developing world beyond. A short stroll along the canal side will bring you to Tardebridge locks, the longest in the country with just over thirty locks in the space of two miles.
Nearby Redditch and Bromsgrove provide a variety of everyday goods and services and despite being readily accessible seem like a world away once inside the refuge of the woods.
These particulars and plans were prepared by local manager Daniel Sharp.
The purchasers of the woodland will be asked to enter into a covenant to ensure the quiet and peaceful enjoyment of adjoining woodlands and meadows.