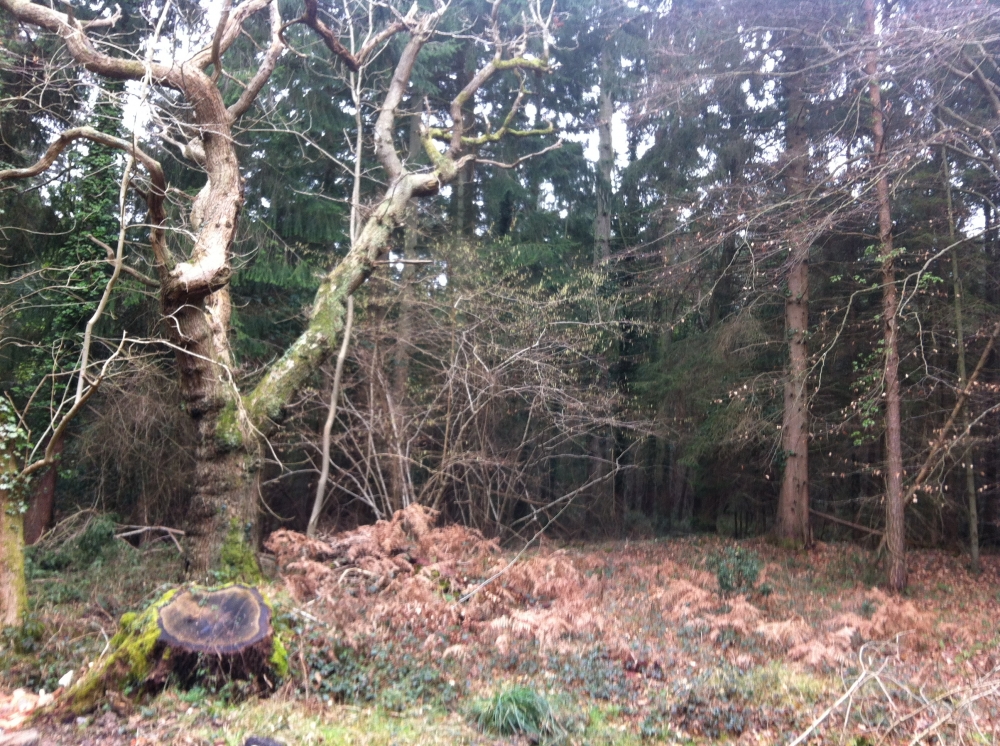 In recent centuries much of the land around this area was owned by the wealthy Rothschild family of The Exbury Estate. During this period there was considerable planting of woodland on country estates to enhance the sporting appeal. Approaching Moonhills Wood the dramatic towering oak, beech and pine flanking the central woodland access ride tell of the grandeur of an age long since passed and a woodland now ready for the enjoyment of a new generation of landowners.
Within the woodland boundary there are many features both natural and man made to beguile the visitor. A historic ditch and bank traverse the wood as evidence of an early agricultural method for enclosing grazing land for livestock and raising the levels in poorly drained low lying areas. These have survived for centuries and are still readily identifiable throughout this wooded area. The earthworks may predate the wood and have survived beneath the shelter of trees within woodland that is unmolested by modern agricultural practices. These channels now provide an important water source for woodland ground flora and for the insects and mammals that are in turn sustained under the tree cover. The name Moonhills Wood reflects these lunar style undulations and is also a nearby area of heath peppered with the remnants of Bronze Age barrows.
This is a habitat that is seldom disturbed; where fallow, roe and muntjac deer can browse untroubled amongst the conifer, ash and holly and where opportunity exists to become immersed in the sounds of the woods and the timelessness of nature.
Notwithstanding such a peaceful location there is good access to Moonhills Wood along a short section of well made woodland track from a quiet country lane. The surrounding area is well connected to the major road network and a host of attractions in and around the New Forest. In particular The National Motor Museum at Beaulieu where photographs from 1927 of Major Henry Segrave land speed record breaking car Sunbeam are on display.
These particulars and plans were prepared by local manager Daniel Sharp.
The purchasers of the woodland will be asked to enter into a covenant to ensure the quiet and peaceful enjoyment of adjoining woodlands and meadows.