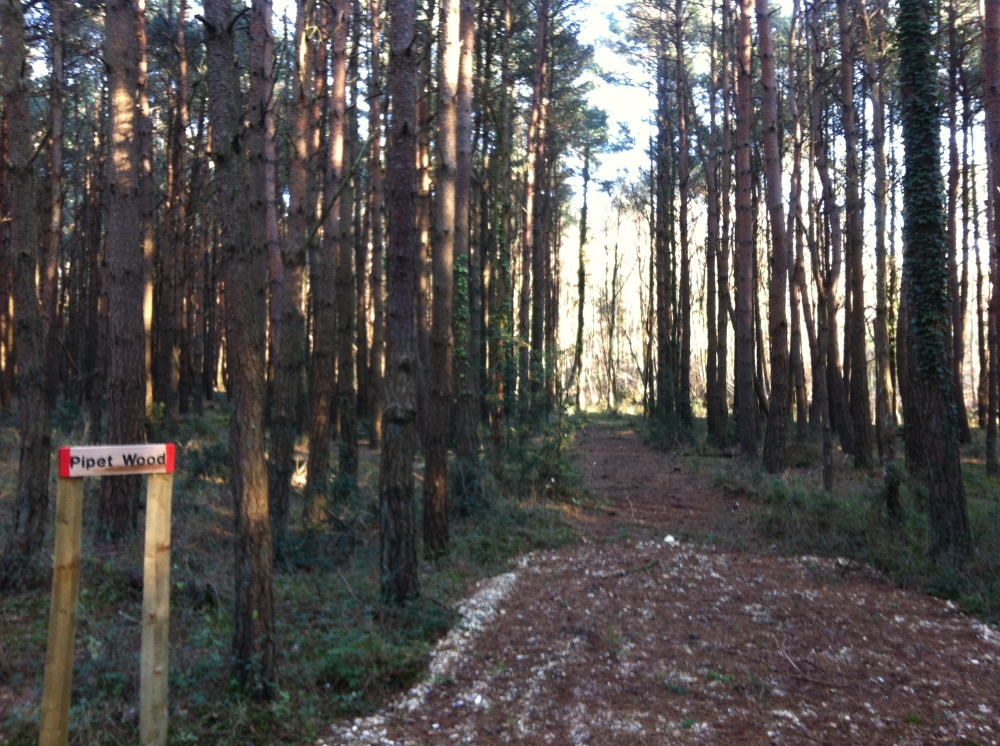 A woodland track running deep into the surrounding forest provides good access to the entrance to Pipet Wood, which takes its name from the tree pipit that is a summer visitor to conifer woodlands in the UK.
Around the hours of dawn or dusk if you are quiet and remain in the shadows you can hear the strange cackle and creaking sound of the secretive sika deer that inhabit this forest as they move through the conifers and across the woodland rides. These majestic animals only inhabit woodlands with low disturbance and it is therefore a good sign that they can be found here.
Ancient woodlands such as these provide an awe-inspiring sense of a proud tradition of the power, patronage and politics of the royal households of the early middle ages. Today the wood we see is much more recent, being mainly pine with occasional hazel and remarkable examples of ancient oak dominating hidden clearings. There are still signs of an ancient past in the smaller ground flora indicator species such as bluebells, dogs mercury and wood sorrel along with interesting fungi species to satisfy the budding mycologist.
There are many types of fern here and soft carpets of sphagnum moss cling to the ancient banks that clearly define the boundaries of Pipet Wood and soften the footfall of the wildlife enthusiast allowing for silent progress through the wood.
The woodland boundary is marked in part by the historic ditches and banks which were an early agricultural method for enclosing grazing land for livestock and raising the levels in poorly drained low lying areas. These have survived for centuries and are still readily identifiable throughout this wooded area. The earthworks predate the wood and have survived beneath the shelter of trees within woodland that is unmolested by modern agricultural practices.
In spite of its peaceful location, Pipet Wood is easy to reach and well connected to the road network and a host of natural and man made attractions in and around the New Forest. In particular The National Motor Museum at Beaulieu where photographs from 1927 of Major Henry Segrave land speed record breaking car Sunbeam are on display.
These details and plans were prepared by local manager Daniel Sharp
The purchasers of the woodland will be asked to enter into a covenant to ensure the quiet and peaceful enjoyment of adjoining woodlands and meadows.