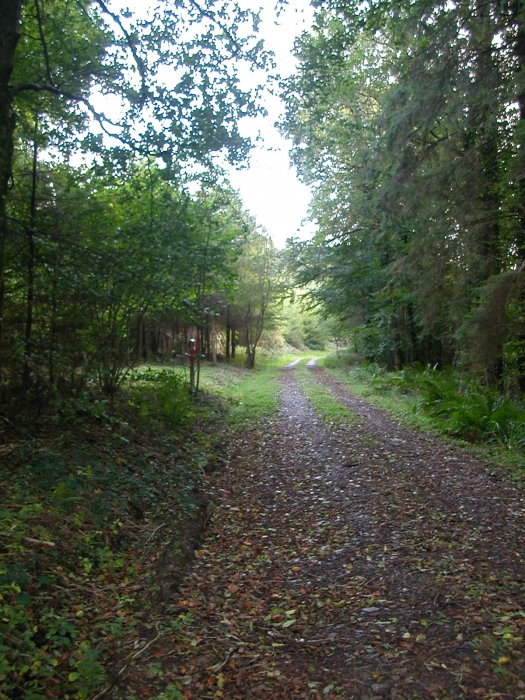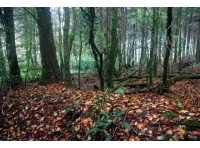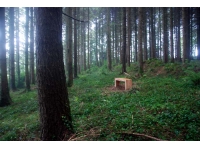 In earlier times all of the woodland which includes Filleigh Wood together with large areas of the surrounding farmland and other woods was part of the Buckland House Estate. The 'big house' is just a short distance away, on the edge of the village of Buckland Filleigh.
Filleigh Wood has three long boundaries to the north, east and west whilst the short southern boundary is bordered by a small stream.
From the eastern end of the woodland you can look across open farmland, following the graceful curve of the beech-hedged eastern boundary to its southern-most point.
Mixed broadleaves (ash, oak and beech) with holly and hazel beneath give way, as you make your way across the woodland towards the west, to a mix of conifers with mainly hazel below. The hazel is quite closely planted in places and could form the basis for an area of coppice. The plantings are divided by old boundary banks which run across and along the woodland. 50 – 60 year old spruce (Norway and Sitka) make up the bulk of the conifers, together with more recently established areas of Douglas fir.
From the southern point of the woodland, follow well-used animal tracks up the western boundary. Continue towards the north-west corner of the woodland. Alongside another of the old boundary banks, a bench affords the chance to sit and look back over the surrounding countryside. Early evening is a great time for sitting and watching out for deer, badgers, and foxes crossing the woodland, whilst hares can often be spotted in the neighbouring fields.
A broad, well constructed track runs all the way along the northern boundary from which, near the north-west end, a track leads into Filleigh wood, running down through the woodland in a southerly direction. A short distance down this track, off to the left, is the perfect spot for a campsite; a clearing set on dry, level ground sheltered by a low bank to the north. Seating and a fire pit have been established here.
Particulars and plans were prepared by our local manager, Dick White.
The purchasers of the woodland will be asked to enter into a covenant to ensure the quiet and peaceful enjoyment of adjoining woodlands and meadows.