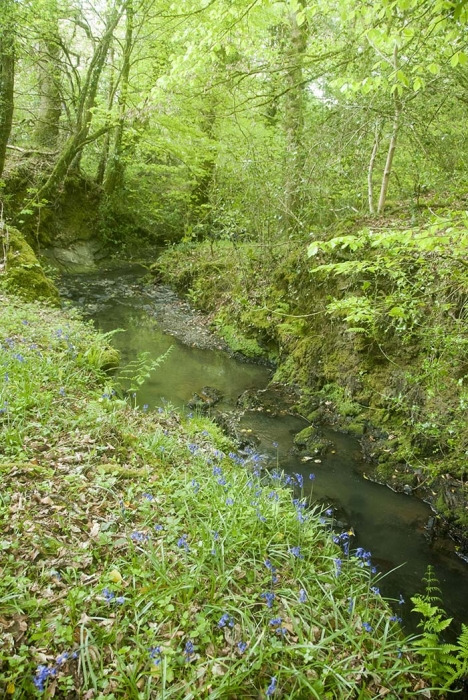 Hewton Farm sits just the other side of a stream which forms the northern boundary of this lovely woodland. At one time, their dairy herd grazed the fields which now make up the younger areas of the woods. These were planted under a Woodland Grant Scheme around 15 years ago.
There is a good mix of broadleaved species within the woodland, including oak, ash, cherry and beech, with lots of hazel, particularly around the perimeter. Close to the stream there are many mature trees; chiefly oaks but with some sycamore and beech.
At ground level the flora is equally diverse and is especially colourful in springtime, with shades of pink, blue, white, yellow and purple. The stream-side area is especially attractive with its bluebells, primroses and early purple orchids.
Taking full advantage of this rich habitat are many different creatures: mammals including red and roe deer, rabbits and foxes, small songbirds such as tits, finches, wrens, robins and birds of the water's edge like herons, wagtails, dippers and kingfishers. The muddy & sandy bays along the edge of the stream are a great place for amateur naturalists to seek out bird tracks and perhaps those of rarely seen animals like otters and water voles.
From the main entrance gate, the woodland is approached along a well-made track, a wonderful walk of about 10 - 15 minutes [note: the purchaser of Hewton Wood will be provided with a gate key and will be able to drive to the private parking area at the woodland entrance]. Within the woodland a good network of tracks lead you around and through the wood. Towards the north-east corner there is a large, level clearing in the shade and shelter of large oaks - a great spot for setting up camp.
Hewton Wood certainly packs a lot in which will both delight and inspire for years to come.
Particulars and plans were prepared by our local manager, Dick White.
The purchasers of the woodland will be asked to enter into a covenant to ensure the quiet and peaceful enjoyment of adjoining woodlands and meadows.