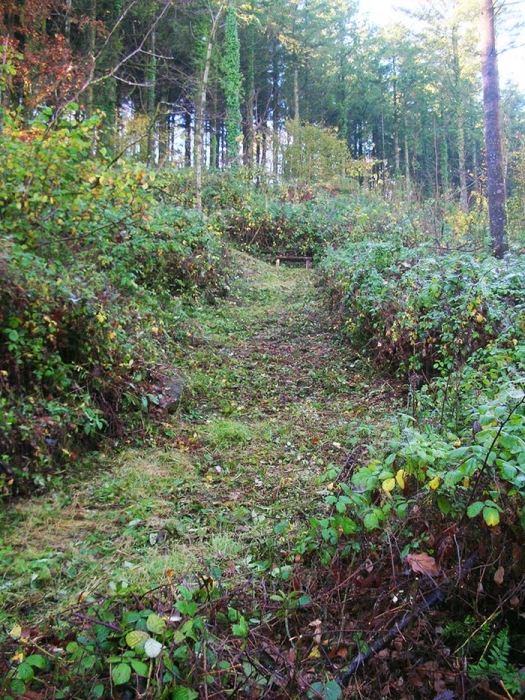 Although usually associated with a location further west in Cornwall, Truthall (or Truthwall) is a popular name for farmsteads throughout the county.
Truthall Wood now forms part of a larger area of woodland known as Trelaske Wood which, together with the adjoining Newpark Wood, were part of the 1,000 acre Trelaske Estate until it was broken up and sold in the middle of the 20th century. Originally the woodlands were mostly stocked with native broadleaved species [the woodland is classified as PAWS – Plantation on Ancient Woodland Site], but much of this timber was harvested and the woodlands restocked with conifers in the 1970's.
Echoes of the earlier woodland can still be found in Truthall Wood, there is a belt of broadleaved trees, including one particular stand of fine old oaks. The woodland has a very open feel to it, due in the main to a recent removal of the majority of the conifers. This presents an opportunity for selective replanting, if desired. Otherwise the process of natural regeneration will eventually do the job; already there are many hazel, sycamore and ash becoming established in the spaces where conifer trees previously stood.
This opening up has also allowed ground flora to flourish. Once the tree canopy re-establishes, most of the current bramble and bracken will die back to be replaced by flora which prefers shade such as bluebells, primroses and wood anenome.
Well-made tracks criss-cross Truthall Wood and these are regularly used by the roe and red deer as transit routes and spaces for browsing. A bench sited alongside one of these tracks in an open sunny spot will allow you the same opportunity.
The tracks running across the woodland from side to side make it easy to explore Truthall Wood from the top, the bottom or across the middle, with smaller, informal tracks running between them.
A report has been prepared detailing the ancient woodland areas of the wood and providing useful guidance and information on restoration options. A copy of the report is available upon request.
Particulars and plans were prepared by our local manager, Stuart Brooking.
The purchasers of the woodland will be asked to enter into a covenant to ensure the quiet and peaceful enjoyment of adjoining woodlands and meadows.