Beckside Wood - SOLD, Cumbria - Just over 5.75 acres, £59,000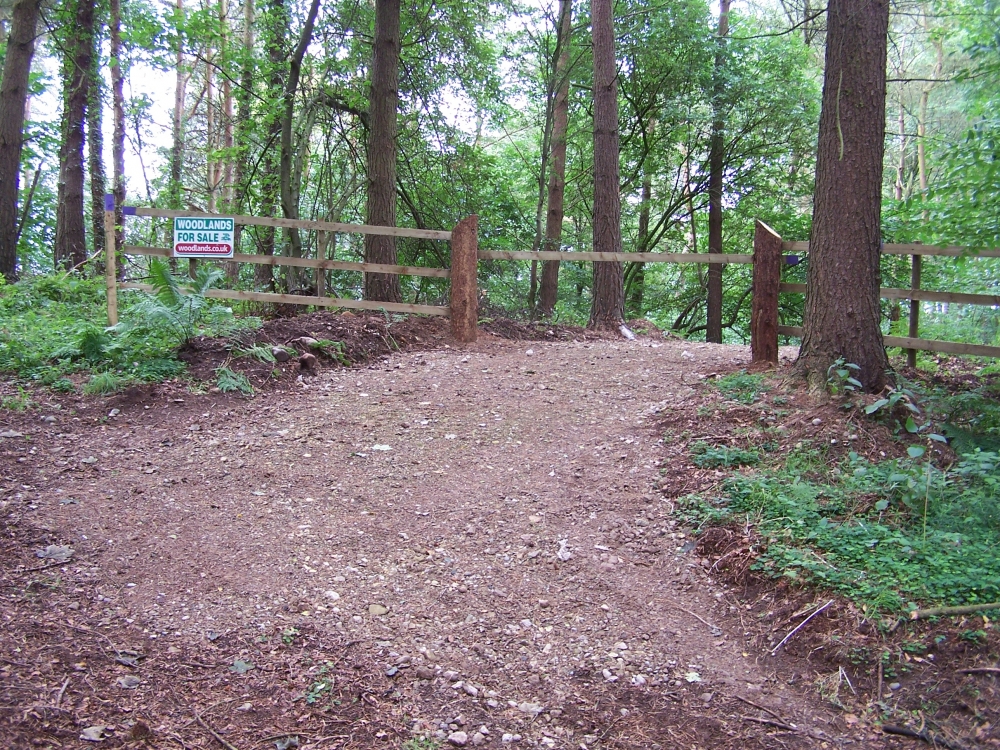 Beckside Wood is part of a larger wood bisected by Hell Beck, a tributary of Gelt River.
The woodland is a lovely mixture of Scots pine and larch with vigorous succession from a variety of native broad-leaves. Sycamore, birch and elder all vie for the light with holly and honeysuckle competing at a lower level.
A track leads to the heart of the wood where an open area of flat ground invites an overnight camp. A second grassy track gives access to an interesting and accessible section of the beck. Lined with sorrel and fern, it is an attractive place to sit and watch the local residents: maybe a Jay squawking noisily up in the canopy, or a dipper fishing in the stream, perhaps a deer, tense and alert, moving through the trees. As a guest in their home, patience is well rewarded with many a sighting.
Whether your interest is wildlife, conservation and management or recreation and fun, Beckside Wood is a special place to be and an investment for the future.
The area surrounding the wood is quiet and peaceful farm and woodland. However in 1570 it was the site of the battle of Hell Beck: this was local support in the shape of a northern uprising for Mary, Queen of Scots, but it was brutally suppressed by the incumbent Queen Elizabeth I. Many years later, a skeleton in full battle dress was found in the woods; keep your eyes peeled!
With the attractive market town of Brampton to the north and the Lower Eden Valley to the south, Beckside Wood is perfectly located. It is close to the North Pennines Area of Outstanding Natural Beauty (AONB). The wood is also a short distance from Talkin Tarn Country Park and Geltside RSPB nature reserve, There is a good selection of B+Bs locally.
The purchasers of the woodland will be asked to enter into a covenant to ensure the quiet and peaceful enjoyment of adjoining woodlands and meadows.
Price: £59,000 Freehold
Location: Castle Carrock, Brampton, Cumbria
Size: Just over 5.75 acres for sale
Boundaries:
The boundaries for this wood are marked in violet. The southern boundary is marked by a line of mature beech trees and fenced farm land. The other boundaries are marked by painted top fence posts.
Local manager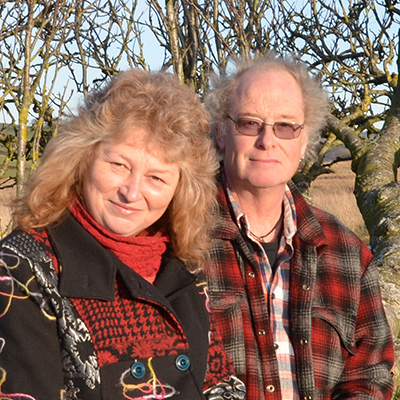 David Alty
07795 104 594
david.alty@woodlands.co.uk

Read more about David.
How to find this woodland
This wood is no longer available. For more woods in the area, please see the regional page or contact our regional manager. To be notified as soon as new woods become available, please subscribe to our regional mailing lists, or subscribe to notifications in one of our apps for iPhone and Android.
Location
OS Landranger: OS No 86
Grid ref: NY 537 578
Nearest post code: CA8 1LR
Maps
See our map of the area below.
See our detailed map below.
Directions
Beckside Wood is just off the B6413 between Brampton and Castle Carrock, about 20 mins from Carlisle and an hour from Newcastle. Satnav: the postcode CA8 1LR is for the point shown by the red dot on the location maps.
Satnav coordinates are: N54:54:47 W2:43:15
Click Here for Directions From Bing Maps. Enter your own postcode, (the main entrance coordinates are already entered) and click on the blue "Go" box. This will take you to the main gate close to Hellbeck Bridge.
Our Directions:
Locate Brampton. From the A69 in Brampton take the B6413 south, signed Golf Club, Talkin Tarn and Castle Carrock.
After 1½ miles cross the railway track. Continue past the golf club buildings and golf course on the right and the turning to Talkin Tarn and Talkin village on the left.
A mile after the railway line the road drops downhill to Hellbeck bridge, the entrance to Beckside Wood is just after the bridge on the right hand side. Please do not block access.
Just a few yards into the wood, take the track immediately to the left, up the hill and around a large beech tree. Beckside Wood ride stop entrance is on the right.
Boundaries:
The boundaries for this wood are marked in violet. The southern boundary is marked by a line of mature beech trees and fenced farm land. The other boundaries are marked by painted top fence posts.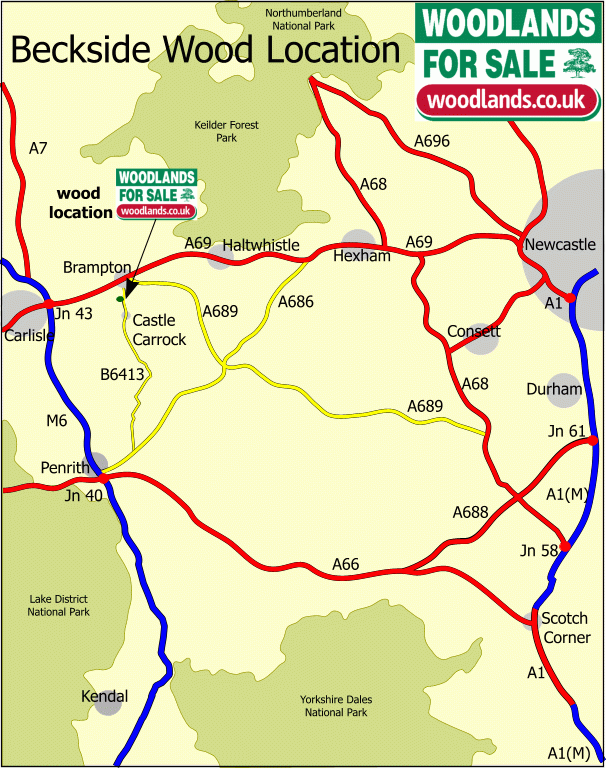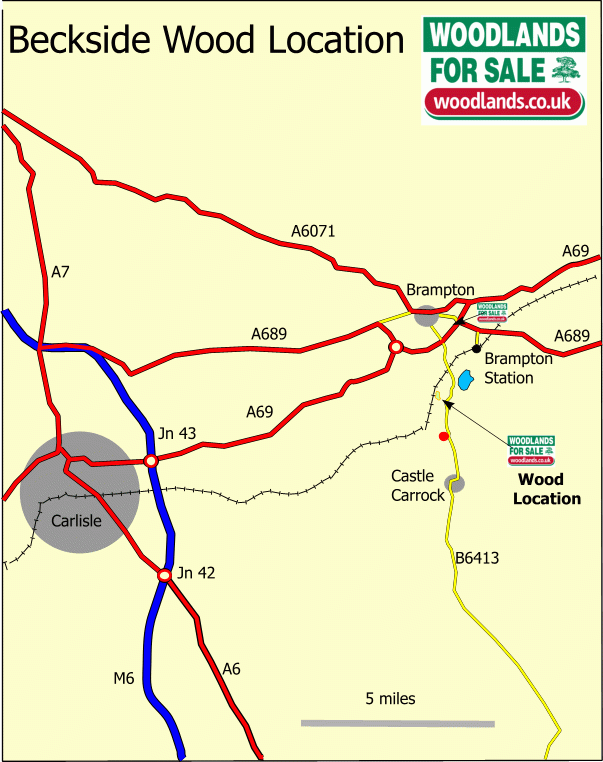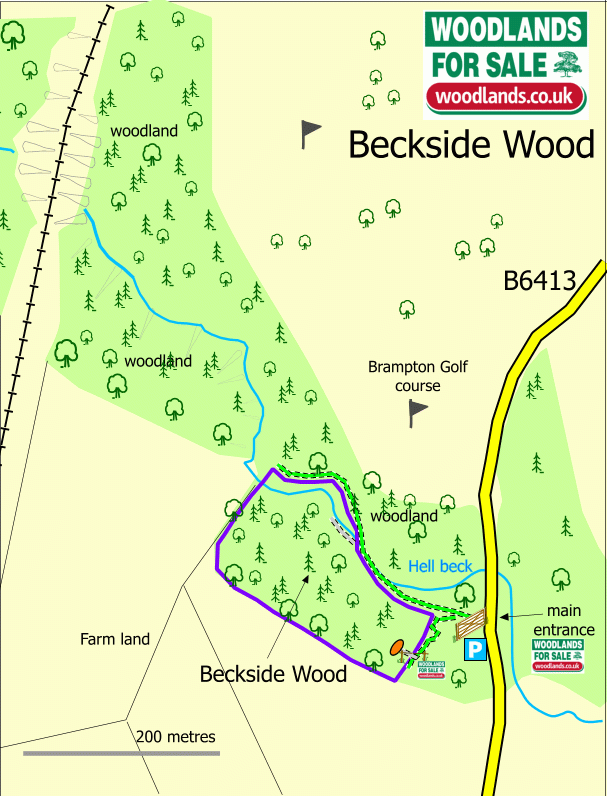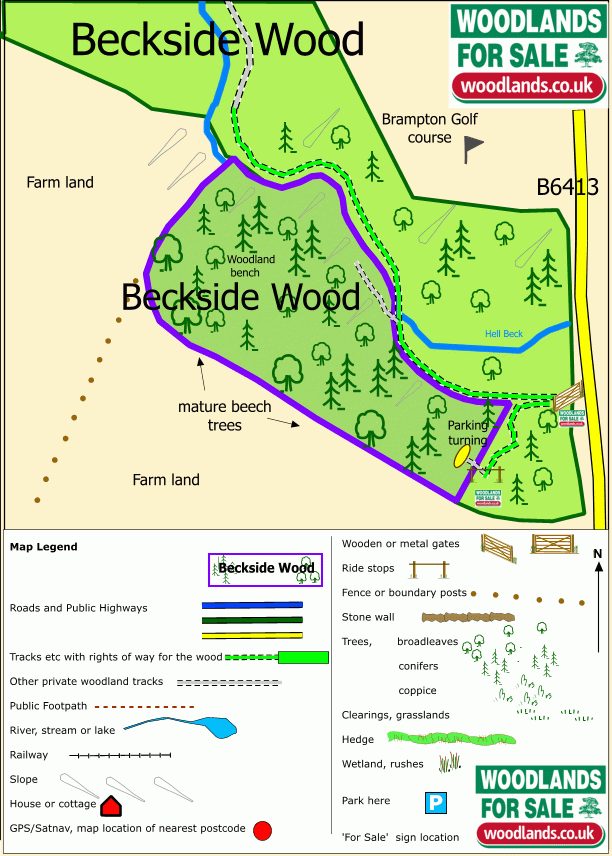 Email updates for this region
Our regional managers are often out working in our woodlands, so if you email an offer and want to be sure it has been received, please phone our manager on his or her mobile phone. The first offer at the stated price which is accepted, whether by phone or email, has priority.
Please take care when viewing as the great outdoors can contain unexpected hazards and woodlands are no exception. You should exercise common sense and caution, such as wearing appropriate footwear and avoiding visiting during high winds.
All woodlands are sold at a fixed price, and include free membership of the Small Woodland Owners Group and the Royal Forestry Society, as well as £300 towards paying for a course (or courses) to help with managing and enjoying your woodland.
These particulars are for guidance only and, though believed to be correct, do not form part of any contract. Woodland Investment Management Ltd hereby give notice under section 21 of the Estate Agents Act 1979 of their interest in the land being sold.