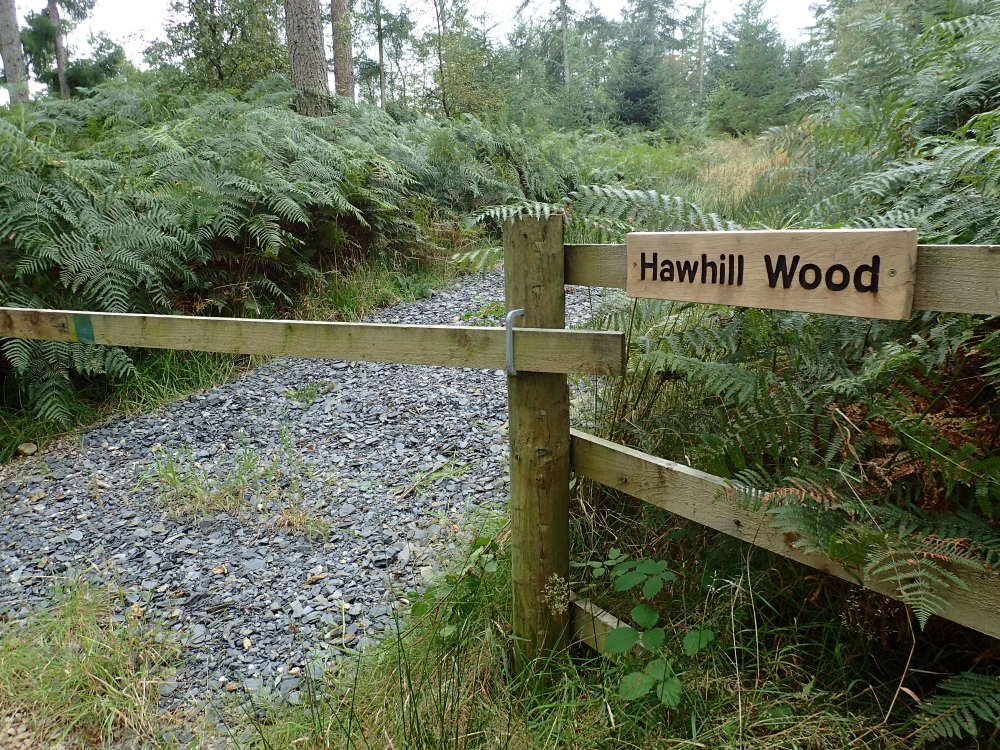 Hawhill Wood is an interesting mix of woodland habitats less than a mile from the southern tip of Lake Windermere.
As you approach Hawhill Wood, up the hill, the widely spaced Japanese Larches are prominent. These are the remains of a plantation, first planted in the 1960s and managed for timber. From the ridestop and entrance to the wood you can see a more dense area to the right and ahead. This dense area is made up of young birches and spruce with the occasional rowan and holly. Through the ridestop at the entrance, you can follow the route up and over a rocky ridge. This will bring you to a lower flatter area with a seasonal pond and a couple of benches with a secluded feeling.
Sitting on the upper bench you get a fantastic view out of the trees to the fells beyond, while behind there are a number of alder trees. These form another one of the habitats of Hawhill Wood. Following these alders towards the wall, the woodland becomes wetter and a number of small streams emanate out of this part of the wood. The alders are mixed with larches and the occasional spruce tree.
The streams provide a perfect habitat for a number of water plants including water plantain and lesser spearwort. Small birds are drawn to this mix of habitats. Wrens and feeding flocks of finches and tits, the occasional woodcock and green woodpecker all visit the wood. The signs of both roe deer and red are found throughout the wood.
The wood has traditional stone walls, which are in good order, beyond these are fantastic views of Saskills and Newton Fell. Hawhill Wood is subject to the CROW Act 2000, meaning there is public access on foot, though in practice the woodland is unused and private.
Access: via Hazelrigg Lane through Canny Hill from the A590(T). There is a communal hard standing area for parking just at the shared entrance and another area for parking inside the ridestop at the entrance to Hawhill Wood.
The Area: With Lakeland fells to the north and Morecambe Bay to the south, Hawhill Wood is perfectly located in the Lake District National Park, world famous for its beauty and ruggedness. There are plenty of places to stay including a number of B+Bs in the local area.
The purchasers of the woodland will be asked to enter into a covenant to ensure the quiet and peaceful enjoyment of adjoining woodlands and meadows.