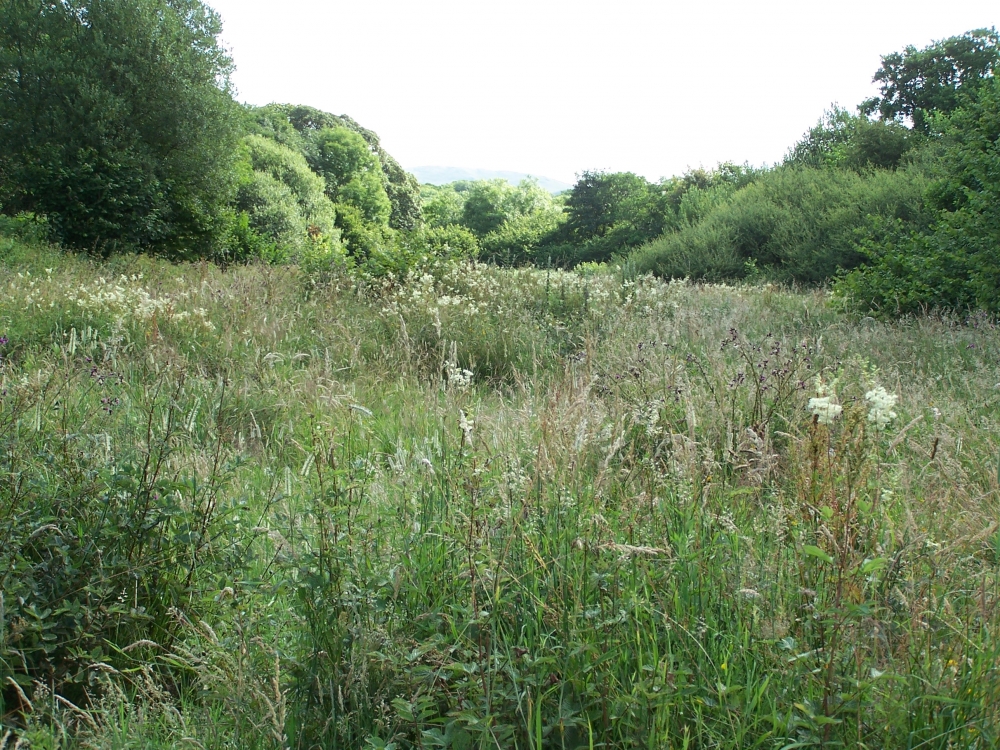 Nestling between the wooded slopes of Ickenthwaite Wood and the River Ehen, Ings Meadow is a lush grassland vibrant with a diversity of species that truly belies its size.
Fringed on the riverside by hazel coppice and bounded to the north by birch, sycamore, willow and alder, the meadow is certainly not without larger flora. A small path leads from the ride stop entrance along the bank of a recently cleared and free flowing drainage channel. This gives easy access to about 50 metres of the River Ehen. With full fishing rights, the Ehen's reputation for salmon and sea trout should give an excellent sporting opportunity, when in season. The river has SSSI status - by clicking on the link full details can be seen. Further information and advice may be sought from the local fishing club.
Within the meadow there is a rich diversity of flowering plants, grasses and sedges; meadowsweet, knapweed, angelica, greater burnett and birdsfoot trefoil to name but a few. Such unimproved grassland is a very rare and unusual find and is worthy of conservation and management. A thriving population of dragonflies and butterflies are among the more noticeable invertebrates in residence.
Larger mammals are also active, with regular sightings of itinerant roe deer and occasionally its cousin the larger red deer. A mysterious creature of legend may even have passed this way: in the 1800s a large predator known as the Girt dog of Ennerdale terrorised the local sheep and was finally brought down along the banks of the Ehen.
A long industrial heritage is indicated by the local red earth. Stained by haematite and much sought after by miners, this mineral had a humble use; local shepherds took red mud, named ruddles or raddles, from riverbanks, and rubbed it into the fleece of their prize rams. This practice can still be seen on the backs of Herdwick sheep at nearby country shows.
With the charming village of Ennerdale bridge less than four miles away, this is a quiet and little-visited corner of the Lake district. Nearby Ennerdale water is rated as Cumbria's most secluded lake. Having said that there are plenty of B&Bs and pubs serving the local community and the St Bees to Robin Hood's Bay coast to coast path, which passes to the north of the wood.
Sporting rights: These are owned and included with the land along with the fishing rights.
Access: Is off a quiet country lane along a solid track, where there is a full right of way (suitable for most cars) to the woodland entrance leading to internal paths, turning and parking.
The purchasers of the woodland will be asked to enter into a covenant to ensure the quiet and peaceful enjoyment of adjoining woodlands and meadows.