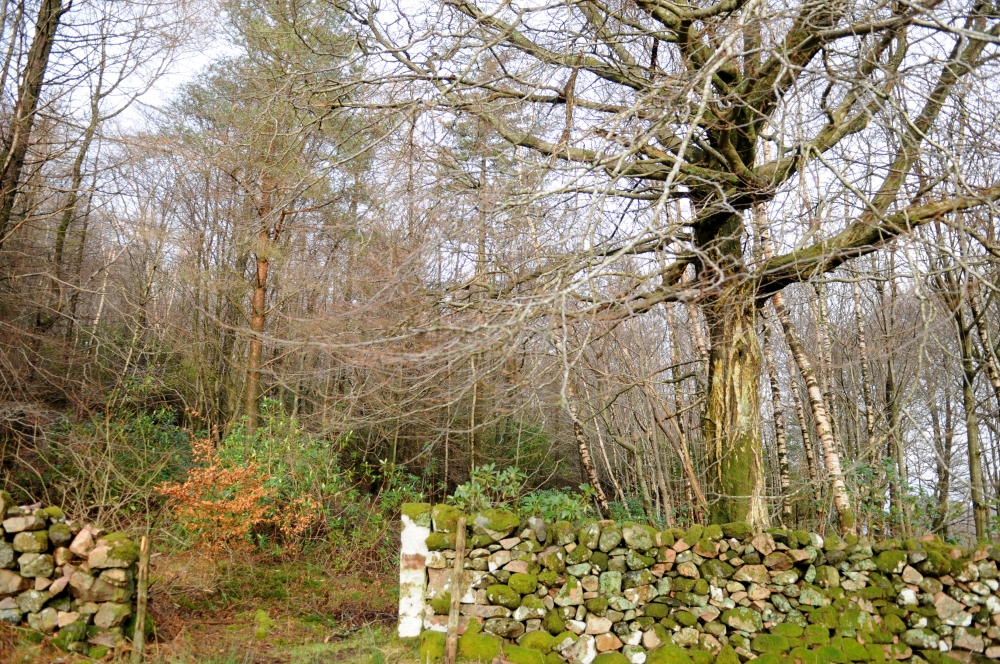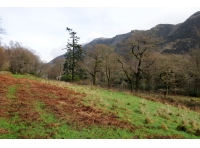 Netherhow Wood and Meadow are near the shores of Wastwater on the western fringes of the Lake District National Park. The view from the wood's south-east facing slopes is toward the dramatic landscape of The Screes. On a clear evening they are lit with the golden evening light as the sun goes down. From the meadow you can look along the full length of the valley to Great Gable and the Scafell range.
Netherhow can be divided into three distinct areas. As you arrive at the entrance the meadow is obviously apparent, it has its own walled boundary, fringed with hazel trees, access from the road and a gate into the wood. In the woodland there is a diversity of tree types. Above the meadow there is a distinct area with a canopy of European larches which were planted in the early '80s. These are mixed in with birches and there is some rhododendron in the understory. In the rest of the wood there are many mature beeches with younger oaks, holly, rowan and birches, the occasional mature sycamore and hornbeam. One of the old hornbeam trees has seeded into the meadow creating a nursery of little trees.
This mix of habitats gives lots of opportunity for wildlife. Roe deer are fequently seen in the wood and red deer are believed to also be present. Tawny owls roost in the wood and ravens and buzzards are often heard overhead. The resident robins never miss the opportunity to see what visitors are doing.
The wood was part of the Biggins estate in the 1830s. The family owned large areas of land in Cumbria. More recently the site was used as a plantation, the south western end of Netherhow wasn't planted and contains an older mix of trees. A single beech by the meadow is included in the Wasdale Hall to Irt Cottage Tree Preservation Order (TPO) made by the Lake District National Park Authority to protect the impressive mature trees that line the lane past the wood.
A few minutes walk brings you to Wastwater. From here you can take in scenes that were voted as the best view in Britain by ITV viewers. This is an opportunity to own your wood and meadow in the heart of the Lake District. There are a number of B&Bs locally as well as good pubs, a campsite and hotel at Wasdale Head, and a very hospitable YHA Youth Hostel, Wasdale Hall is a very short distance from the wood.
The purchasers of the meadow will be asked to enter into a covenant to ensure the quiet and peaceful enjoyment of adjoining woodlands and meadows.