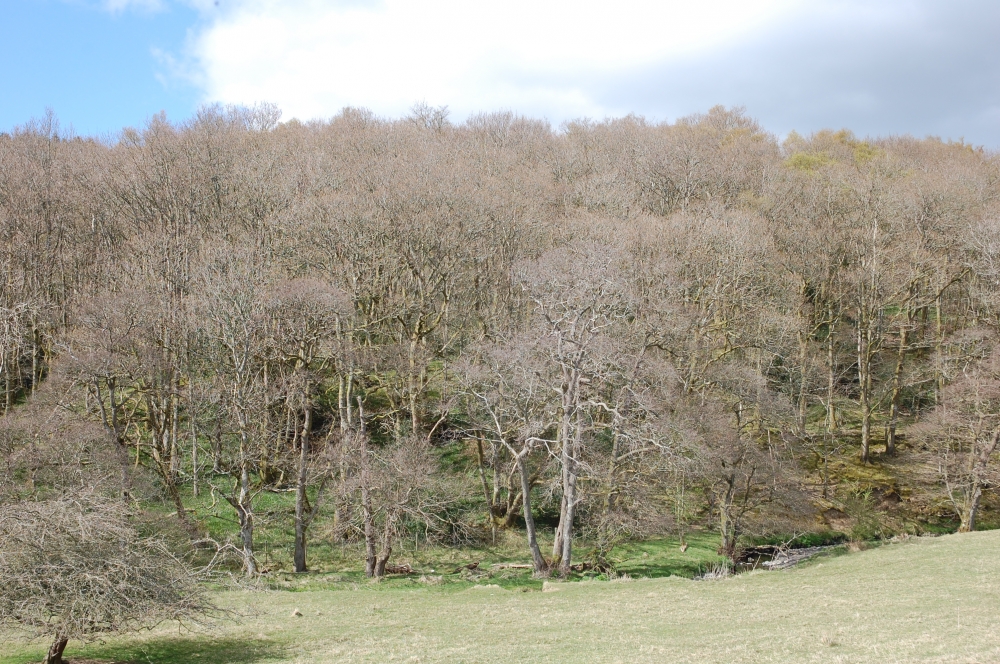 Designated as a PAWS site of former ancient woodland, Ruthwaite Wood has a truly wild feel to it. Untouched for many years, the wood has flourished and naturalised. Bluebell and primrose, plants which only colonise slowly, are found in profusion. Sorrel, ransoms, sleepwell and ground elder, to name but a few, add to the variety found on the woodland floor.
Holly and coppice stools of hazel fill the understory and give a hint as to man's former presence in the wood. The northern slopes of the wood contain the plantation trees, spruce and larch, while an open bank of gorse gives a splash of vibrant colour and a heady scent in summertime.
The lower, flatter areas contain many of our native broadleaf species: birch, oak, ash and sycamore are all well represented. A fringe of alder dip their feet in the free flowing beck that bounds the southern edge of the wood.
A woodland bench has been fashioned, giving the opportunity sit and view the local fells. The imposing bulk of Skiddaw dominates the landscape and is well worth the effort of venturing to this summit. Within the wood are plenty of opportunities to meet its residents: a patient and quiet observer will always be rewarded with a wildlife encounter. Roe deer are a regular, albeit shy, transient visitor. Badgers sally forth at dusk while squirrels, voles and shrews forage during the daylight hours. On a sunny day lizards and slow worms can be seen basking in the warmth.
A small hide situated above the track is the ideal place to watch for birds; buzzards, owls and sparrow hawks are the main top predator species. Robins, finches and tits flit from cover to cover, well supplied by abundant invertebrate life.
Access through the wood is provided by a well made track accessible to most vehicles. There are two hard standing or turning areas within the wood with a third communal area just across the ford. A small gate has been installed in the fence line to enable access to the beck side to an ideal spot for a summer picnic.
The wood is situated close to the village of Bassenthwaite and the lake that shares its name. Traditionally, locals made their living from farming, fishing and processing cloth made from the wool of the hardy Herdwick sheep. Mining also figured in the area, hence the name of the woodland's stream, Coal beck. Most of these occupations have now faded into the past and the area is now well known for outdoor pursuits. Fell walking, mountain biking, sailing and canoeing are amongst the most popular. A good selection of B+B s and pubs are able to provide rest and repose.
The purchasers of the woodland will be asked to enter into a covenant to ensure the quiet and peaceful enjoyment of adjoining woodlands and meadows.