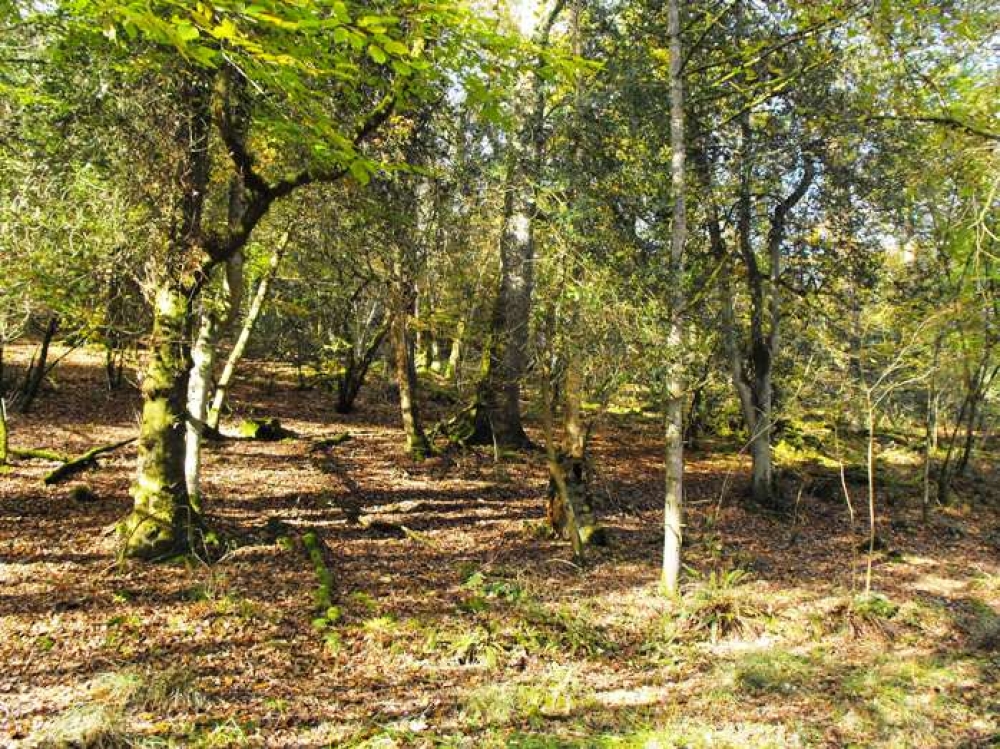 Caplecombe Wood is a special place, set within tall trees, secret hollows and shrubs. Located deep within the heart of the woodland is a magical 'deer wallow'. This is where the local population of red deer roll in muddy puddles to anoint themselves prior to the deer 'rut'.
There is good access from a "B" road and a large off road parking area not far from the woodland entrance which allows space for overnight stays in a campervan or motor home.
A number of springs run through Caplecombe Wood giving a charming feature and a useful water supply.
The woodland is listed as Ancient semi-natural with small areas partly replanted with conifer trees. This forms what is known as a Plantation on Ancient Woodland Sites (PAWS). Areas of Ancient woodland are recognised as the richest habitats for wildlife within the UK with centuries of flora and fauna and there is a current drive to restore PAWS sites. The woodland purchaser may benefit from the current drive with free visits and advice on grants available for restoration making Caplecombe Wood a great project for those with a deep love of our old native woodlands.
Caplecombe Wood is a mosaic of areas, each with high amenity, wildlife and timber interest. The entrance to the woodland originates from an old drovers path and leads into a charming wooded area of large old trees dominated by English oaks. There is an under storey of hazel and the balance of the woodland canopy gives the perfect light levels to maintain ground conditions for woodland plants. Bird species such as jay, tawny owls, woodpeckers and long tailed tits can often be observed here.
You can access this area from the entrance by heading north when you reach the first hand-rail on your right and following the deer track and then passed laid tree trunks, taking you to what was probably an old level charcoal burn site where you will find a bench.
Heading west from here the woodland changes slightly with more holly and as you head over a small spring the ground flora increases and includes bluebells. The westerly boundary is an old hedge bank and partly adjoins a field, allowing plenty of light into this section of the woodland.
The eastern side of the woodland has areas of wet woodland with some alder coppice. This alternative habitat is teeming with frogs and toads and dragon flies in the summer months. There is a board walk here which is also a good place to wait to see if you can get a sighting of the red deer. A pond could be created here if this is of interest.
The nearby hamlet of Chittlehamholt was originally a clearing in woods where residents of Chittlehampton collected logs. The local area is quiet and friendly and is known for being very traditionally Devonshire with rural communities and a more relaxed way of life.
Caplecombe Wood sits near the top of the Mole valley in the rural heartland of Devon. The river Mole provides excellent fishing opportunities for trout and salmon. The name 'Caplecombe' is from a local farmstead meaning 'of or near a chapel' (caple) in a 'short straight valley' (combe).
Local facilities include The Exeter Inn, the local village pub, the nearby High Bullen Hotel - a luxurious place to stay with golf, tennis and day licences for the fishing mentioned above. If you fancy a treat when visiting your woodland, perhaps as an alternative to camping, the quaint Mole Cottage is just a 10 minute walk away.
Particulars and plans were prepared by our local manager, Stuart Brooking.
The purchasers of the woodland will be asked to enter into a covenant to ensure the quiet and peaceful enjoyment of adjoining woodlands and meadows.
Boundaries:
The northern boundary is indicated by a line of posts with orange markings on.
The eastern boundary is along the edge of an old path indicated with orange markings on trees.
The southern boundary is indicated with orange markings along an old wood bank and the edge of the woodland.
The western boundary is indicated with orange markings on trees along an old wood bank.