Crook Wood, Devon - About 3 ⅔ acres, £39,000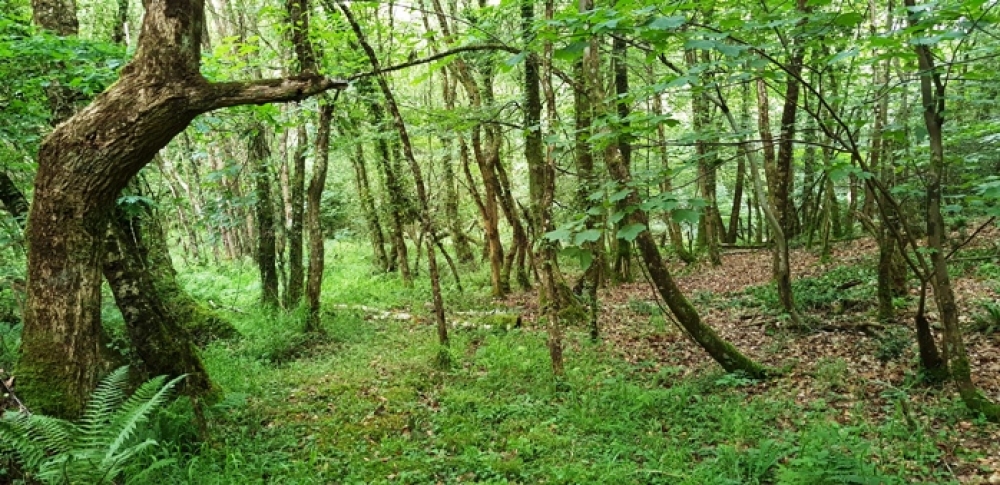 Crook Wood has a 'wild' feel about it with species of tree such as birch, alder, sweet chestnut, sycamore, hazel and willow all part of the makeup of this established woodland habitat. Whilst fringes of mature conifer trees at the north and south provide shelter and a source of useful timber for small building projects.
Access to the woodland is via a stoned forestry track with a second alternative access track at the north. There is also a link via the main forestry track to a bridleway further north of the area where you can walk or mountain bike up to the hamlet of Sigford, where 3 rivers meet. Sigford is within the Parish of Ilsington, a quaint Dartmoor village with a pub and fantastic walks around the east of Dartmoor.
Crook Wood has good topography and offers both a good supply of firewood as well as excellent wildlife management opportunities for the purchaser. The edges of the wood are predominantly dry and well drained whilst the centre of the woodland is a wet woodland habitat, characterised by the birch, alder and willow trees. This is a threatened habitat nationally due to sites being drained. Wet woodland supports many different species including the song thrush, marsh & willow tits along with good conditions for noctule and barbastelle bats.
The woodland takes its name from the traditional 'crook' which was made from a few willow poles which were steam bent into curves and then lashed with horizontal poles to form a carrying saddle to put on ponies. The ponies would then carry goods around the network of old tracks around Dartmoor carrying such goods as peat, firewood, corn, hay and straw. The loads were often twice as high as the pony.
As well as being set in a perfect location to explore Datmoor there are other nearby places of interest including the quaint town of Ashburton and a short drive away is the popular small town of Totnes.
Particulars and plans were prepared by our local manager, Stuart Brooking.
The purchasers of the woodland will be asked to enter into a covenant to ensure the quiet and peaceful enjoyment of adjoining woodlands and meadows.
Price: £39,000 Freehold
Location: Sigford, Ashburton, Devon
Size: About 3 ⅔ acres for sale
Boundaries:
All boundaries are indicated with pink markings on posts and trees.
The northern and southern boudaries run along a forest track, both of which are access points to Crook Wood.
The western boundary is an old wood bank.
The eastern boundary is indicated by a line of posts.
Local manager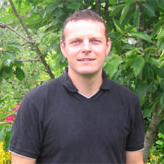 Stuart Brooking
07801 789215 or 01392 436229
stuart@woodlands.co.uk

Read more about Stuart.
How to find this woodland
You are welcome to visit this wood by yourself, but please ensure that you have a copy of these sales details with you - many of our woodlands do not have mobile phone reception or internet access so we recommend either printing the details or downloading them to your phone/tablet/laptop.
Do remember to also check that it is still available for sale. If you have seen the woodland and wish to be accompanied on a second more detailed visit please contact our local manager.
Location
OS Landranger: OS No 191
Grid ref: SX 783 730
Nearest post code: TQ12 6LF
Maps
See our map of the area below.
See our detailed map below.
Directions
- To view this woodland please first contact the agent to register your interest and to acquire the code for the padlocks.
- Once you have arranged to view starting from Exeter head south on the A38 and take the exit for Ashburton sign posted B3352.
- From the slip road turn right at the junction (heading towards Ashburton) and cross back over the A38 and turn right signposted Exeter A38 to re-join the A38 northbound.
- Proceed for around half a mile along the A38 northbound then take the exit signed for Newton Abbot (A383), Bickington and Widecombe.
- Take the first left hand turning signed Widecombe and Sigford and drive up the hill.
- When the road levels out, look for a large gated entrance on your right with a www.woodlands.co.uk for sale sign on it. If you get to Hooks Cross and a see another woodlands for sale sign you have gone too far!
- Enter the code and open the gate (please close behind you).
- Drive carefully down the track until you reach a second gate with a 'woodlands for sale' sign on it. Enter the second gate code here if the gate is locked please shut the gate behind you.
- You can either park here and walk or drive to the woodland taking the main track on the left after the large parking area and head down the hill until you reach a fork in the track.
- Take the right hand track here and continue along the track for about 100 metres until you reach the entrance to Crook Wood on your left indicated with a 'Crook Wood' name sign at the entrance.
- From the entrance you can walk straight ahead and across a small bridge to access the north-western side of the woodland. You can also turn right and follow a path that heads around the edge of the woodland to the north eastern edge. The centre of the woodland is wet woodland habitat and you will need wellies!
- Satnav/GPS note: the postcode TQ12 6LF is for the point shown by the red dot on the location map number 2.
Boundaries:
All boundaries are indicated with pink markings on posts and trees.
The northern and southern boudaries run along a forest track, both of which are access points to Crook Wood.
The western boundary is an old wood bank.
The eastern boundary is indicated by a line of posts.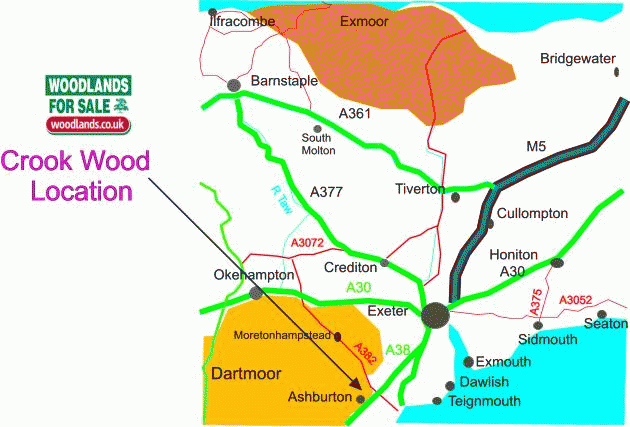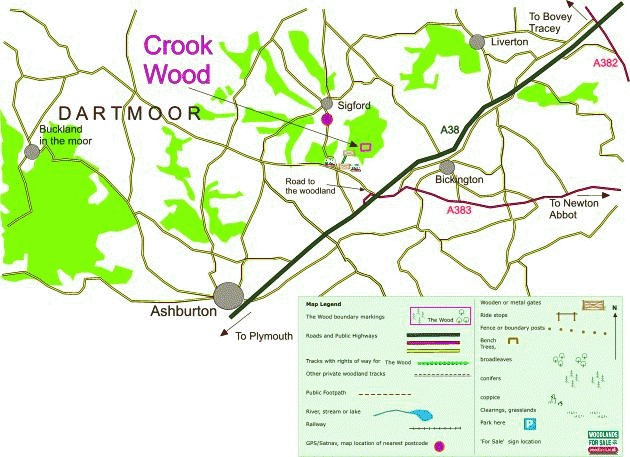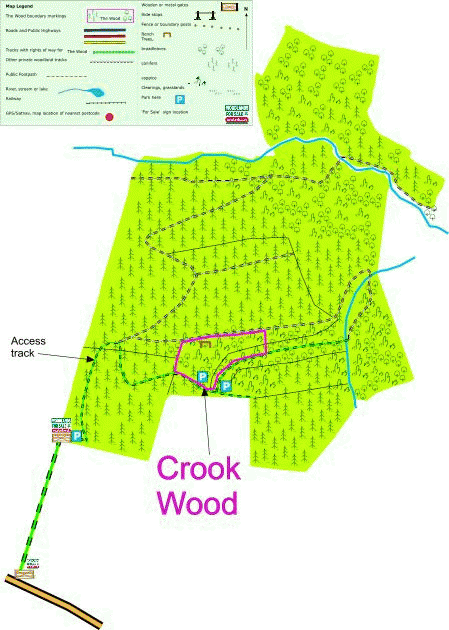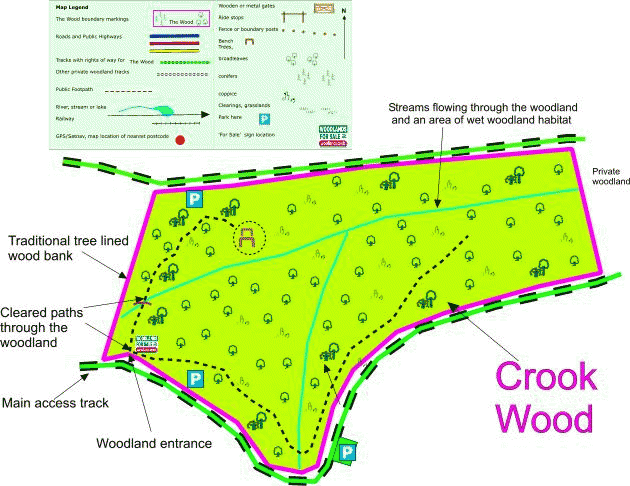 Email updates for this region
Our regional managers are often out working in our woodlands, so if you email an offer and want to be sure it has been received, please phone our manager on his or her mobile phone. The first offer at the stated price which is accepted, whether by phone or email, has priority.
Please take care when viewing as the great outdoors can contain unexpected hazards and woodlands are no exception. You should exercise common sense and caution, such as wearing appropriate footwear and avoiding visiting during high winds.
All woodlands are sold at a fixed price, and include free membership of the Small Woodland Owners Group and the Royal Forestry Society, as well as £300 towards paying for a course (or courses) to help with managing and enjoying your woodland.
These particulars are for guidance only and, though believed to be correct, do not form part of any contract. Woodland Investment Management Ltd hereby give notice under section 21 of the Estate Agents Act 1979 of their interest in the land being sold.