Painters Wood - SOLD, Devon - Nearly 3 ½ acres, £35,000
Painters Wood is a predominantly a maturing spruce conifer woodland which has some attractive broadleaved trees including beech along the northern edge. The woodland is established and level providing a good timber resource for small forestry projects or supply fuel for a wood burning stove.
Painters Wood has a good internal drainage system channeling water and supplying a usable water resource. There are small clearings within the wood which make ideal areas for camping. These sunny clearings have allowed the growth and spread of various flora such as gorse, wood sorrel and various mosses. There is also a natural pond area that could be expanded as a wildlife habitat feature.
Snipe have been seen over-wintering in the area and this part of Devon is one of the best for seeing the amazing flocks of starlings. Numerous small birds are to be found at the woodland edge taking advantage of the hedgerows along the outer boundary. Larger mammals include both red and roe deer.
The wood has been named Painter Wood as an artist on his way to St Ives stops here once a year to paint and capture the changing light and modes of this woodland. He claimed this is an inspirational place for artists such as Dame Barbara Hepworth
The local area around Painters Wood is superb for touring and holidaying with the stunning north Devon coast within about 4 miles of the wood. This includes such gems as Welcome Mouth beach and Duckspool beach. The nearby village of Hartland has good facilities such as shops and pubs and this village is a good point to access the south west coastal path with amazing geology and views of the sea lining the way. On a clear day the Island of Lundy can be seen from here and a trip to see this Marine Nature Reserve can be made from the nearby town of Ilfracombe.
Another picturesque coastal place a short drive away is the fishing village of Clovelly. The towns of Bude and Barnstaple are within easy reach providing an excellent range of shops, cafes, cinemas and things to do and see. You can access the Tarka trail from Barnstaple, a beautiful 22-mile cycle ride on an old railway line which is nice and level! Not far away, the Tarka railway line runs from Barnstaple giving good links to Exeter and mainline routes. You can get to Barnstaple on the A361, which links directly to the M5.
In summary: a perfect place to escape in the wilds of north Devon but with easy access to the local dramatic and picturesque coastline.
Particulars and plans were prepared by our local manager Stuart Brooking.
The purchasers of the woodland will be asked to enter into a covenant to ensure the quiet and peaceful enjoyment of adjoining woodlands and meadows.
Price: £35,000 Freehold
Location: Near Welcome Mouth Beach, Hartland, Devon
Size: Nearly 3 ½ acres for sale
Boundaries:
All boundaries are indicated within violet markings.
The northern and western boundaries are a wood bank with marking on trees.
The southern and eastern boundaries are indicated with markings on posts and trees.
Local manager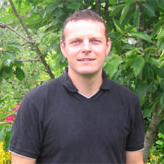 Stuart Brooking
07801 789215 or 01392 436229
stuart@woodlands.co.uk

Read more about Stuart.
How to find this woodland
This wood is no longer available. For more woods in the area, please see the regional page or contact our regional manager. To be notified as soon as new woods become available, please subscribe to our regional mailing lists, or subscribe to notifications in one of our apps for iPhone and Android.
Location
OS Landranger: OS No 190
Grid ref: SS 267 178
Nearest post code: EX39 6HD
Maps
See our map of the area below.
See our detailed map below.
Directions
From Kilkhampton take the A39 (Atlantic Highway) north towards Hartland. After about 4 miles you will pass Welcome Cross.
- Drive round a right hand bend onto a straight length of road. Look out for the 'Woodlands for Sale' sign board on the hedge bank on your right. The woodland entrance is just before this (to the south) and defined by a metal gate with a 'small woodland for sale sign' on it.
- Park carefully in the gateway to view Painters Wood. The purchaser will be provided with a key to open this gate.
- Climb carefully over or around the gate and take the track to the right, parallel to the road.
- You will pass the car parking area on your left. Continue past the car park along the track until you see the entrance to Painters Wood indicated with a ride stop with a 'Painters Wood' name sign on it.
- The track continues after the ride stop until a bridge across the culvert. The rest of the woodland is accessed from here.
Satnav/GPS note: the postcode EX39 6HD is for the point shown by the red dot on the location map.
Boundaries:
All boundaries are indicated within violet markings.
The northern and western boundaries are a wood bank with marking on trees.
The southern and eastern boundaries are indicated with markings on posts and trees.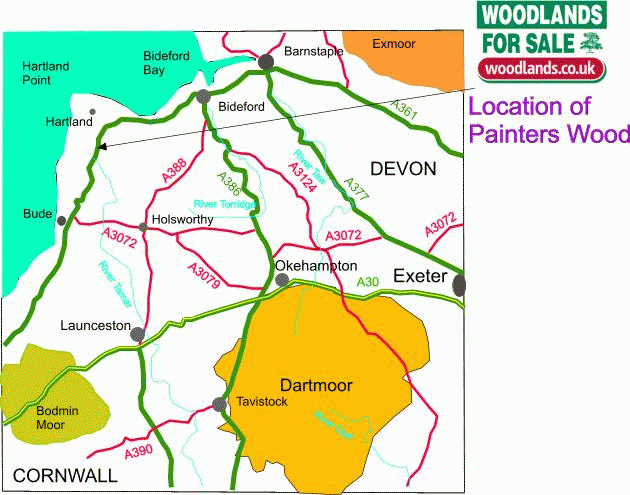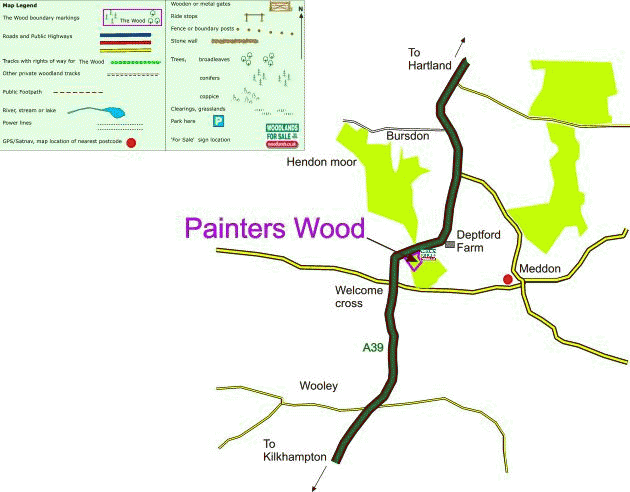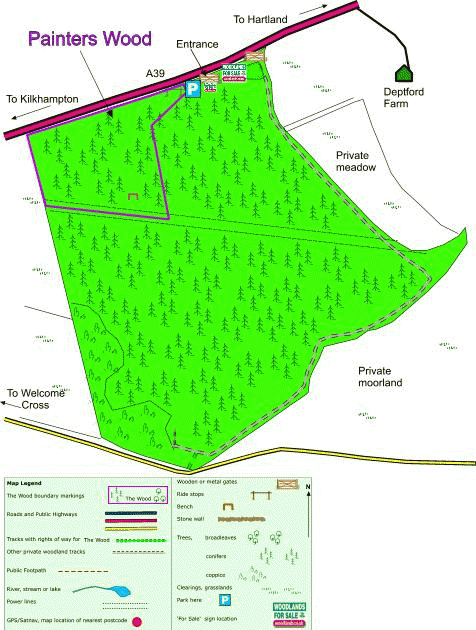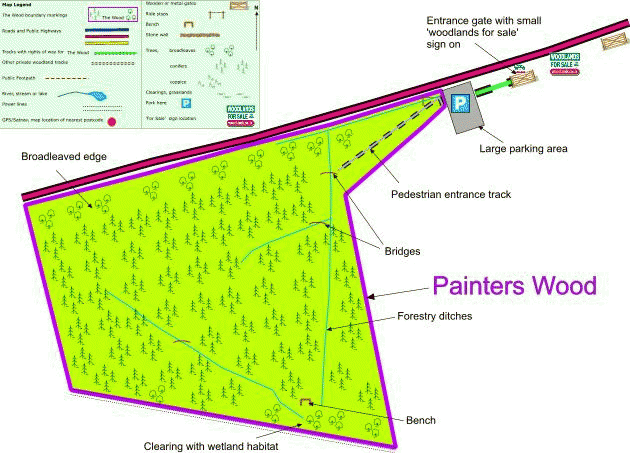 Email updates for this region
Our regional managers are often out working in our woodlands, so if you email an offer and want to be sure it has been received, please phone our manager on his or her mobile phone. The first offer at the stated price which is accepted, whether by phone or email, has priority.
Please take care when viewing as the great outdoors can contain unexpected hazards and woodlands are no exception. You should exercise common sense and caution, such as wearing appropriate footwear and avoiding visiting during high winds.
All woodlands are sold at a fixed price, and include free membership of the Small Woodland Owners Group and the Royal Forestry Society, as well as £300 towards paying for a course (or courses) to help with managing and enjoying your woodland.
These particulars are for guidance only and, though believed to be correct, do not form part of any contract. Woodland Investment Management Ltd hereby give notice under section 21 of the Estate Agents Act 1979 of their interest in the land being sold.