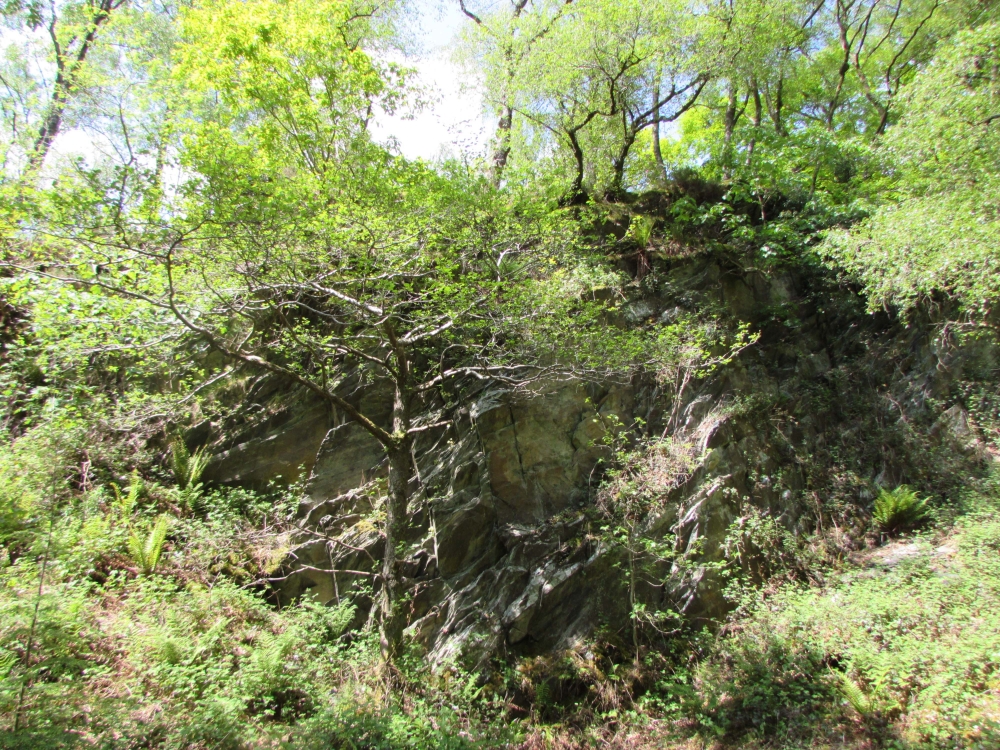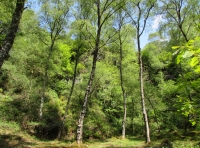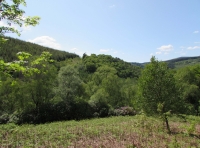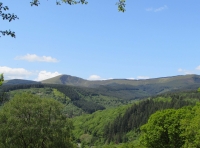 Coed Cadian is a very unusual woodland as part of it was once a slate quarry. When the Rhiw'r Gwreiddyn Slate Works was at its highest capacity back in 1898 it employed 72 workers which then reduced to only 5 workers by the end of the 1930's. You can still see remains of some of the slate buildings nearby. There is also a very deep quarry in Coed Cadian which now has lots of trees, mosses and ferns growing on the walls leading to the bottom. At the bottom there is a small stream that disappears underground through a cave. This quarry and cave provides an excellent habitat for local insects and bats.
Near the quarry there is a secluded level area that give the feeling of being very private and sheltered as it is surrounded by an old quarry wall; this area could be used as a camping area when visiting the wood or as a base for woodland activities.
On the outskirts of the quarry there is a track which leads to the top of the wood where there is a large open meadow area. This is overgrown in some areas, but with some work this area could be restored to a rolling meadow surrounded by mature oak trees with the potential for keeping livestock, bee keeping, creating a wild flower meadow or re planting with new tree species to further diversify the woodland.
Many of the tree species already growing here include oak, silver birch, rowan, ash, holly and hazel.
Towards the north western boundary there is access to a small brook for water and towards the southern boundary there is a level enclosure surrounded by mature trees where there is a rustic bench to take in the surroundings.
Some of the wildlife seen and heard here include many song birds, owl, woodpecker, buzzard, fox and deer.
Nearby is the Centre for Alternative Technology and a short distance away is the market town of Machynlleth for local amenities.
The purchasers of the woodland will be asked to enter into a covenant to ensure the quiet and peaceful enjoyment of adjoining woodlands and meadows.