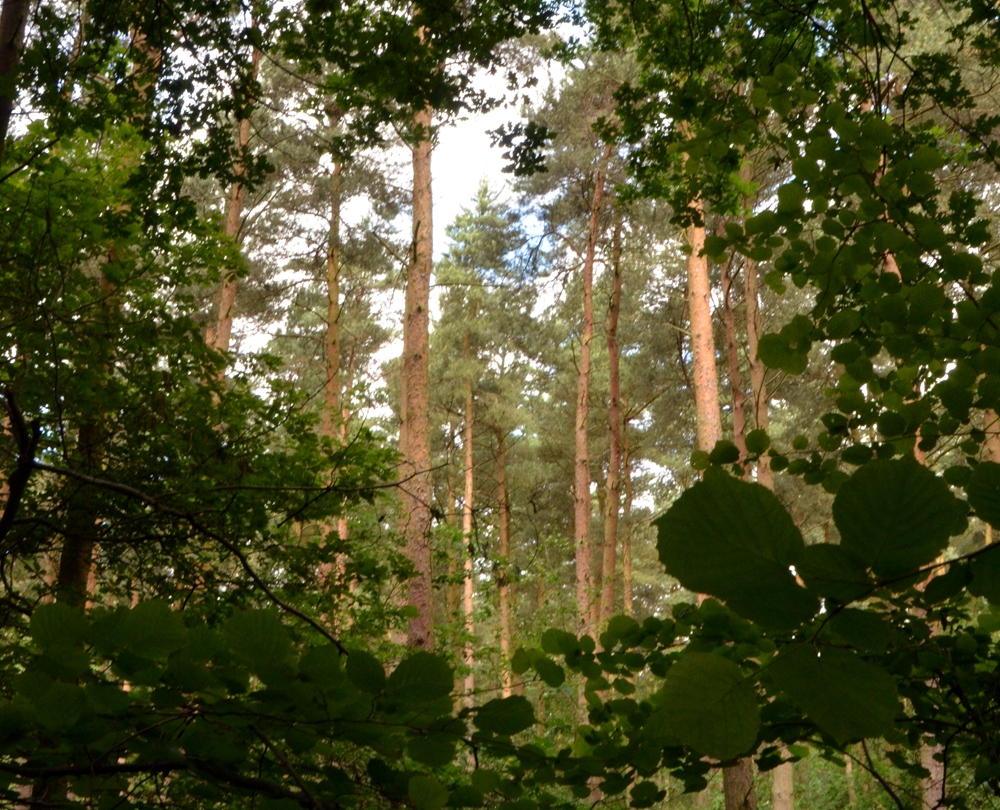 Situated toward the middle of Moreby Wood, overlooking a picturesque meadow to the south, Acklam Wood is accessed along solid stone tracks, two of which form the northern, eastern boundaries, and part of the southern one.
A ride-stop entrance part way along the southern track, with a useful hard-standing area, is the main entry point to the wood. Leading off from here, a mown foot-track heads beneath tall pines and lovely oak and hazel trees that are maturing to form good cover and endow the wood with a very private feel.
After about 50 metres or so, the path reaches a drainage dyke that has been recently cleared and is working well. The strip of woodland beside this is more open and makes a great, sunny, environment for invertebrates such as butterflies and bees, as well as the creatures who feed on insects. Masses of foxgloves have seeded themselves here, taking advantage of the increased light level to aid photosynthesis and growth.
Crossing the dyke via a bridge made of poles, the path follows a circular route. Turning right, it follows the edge of a dense belt of young birch, which makes a very effective screen from the main track. Toward the western edge of the wood, native deciduous trees increase in number and a charming timber bench is situated beneath some oaks, looking out across a fern-filled glade. As well as oak and birch, other tree species such as rowan, holly, and goat willow have self seeded and are doing well in the fertile and good ground conditions. Added to these, a large number of coppiced hazel stools, all contribute to making Acklam Wood a very attractive wood indeed.
The path continues from the bench to the southern boundary, where there are lovely views out across a bright sunny meadow. The grassy fields all around the wood are excellent vole habitat and help to support a healthy population of owls. Tawny owls can been seen (by a lucky observer) and heard within Acklam Wood. Look out for pellets left on the ground next to favourite feeding perches, such as the boundary posts.
A well used animal track follows the inside edge of the southern wood boundary. The circular route follows this for about 50 metres then strikes off to the left on a mown path to reconnect with the bridge over the dyke.
The name Acklam is from the Sir William Acklam (or Acclom) whose family took up residency in the now Grade II listed Moreby Hall, in the 15th Century. Moreby Hall and its park occupy the north-western corner of the parish of Stillingfleet on the site of the depopulated village of Moreby, the Scandinavian 'farmstead on the marsh'.
The purchasers of the woodland will be asked to enter into a covenant to ensure the quiet and peaceful enjoyment of adjoining woodlands and meadows.