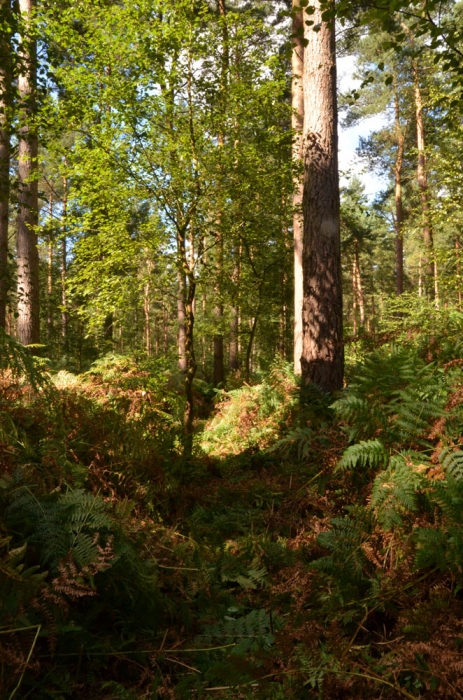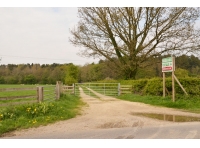 On arriving at Ald Wood, you will find an area suitable for stacking timber or loading a vehicle, just beyond the ride stop entrance. You will note that the wood here is characterised by quite large, stout pine trees reaching straight for the sky, spaced at quite wide intervals, allowing plenty of light to penetrate down to the woodland floor. Sunlight reaching ground level has encouraged the growth of young birch trees, clothed in vibrant green leaves. Occasional sycamore seedlings are emerging with their large leaves growing from darker coloured trunks. These young and vigorous trees are seeding themselves, helping to provide the next generation at Ald Wood.
A private path leads from the parking area along a central route through the wood; about half way into the wood, a rustic woodland bench is located in a spot ideal for watching the wildlife. Throughout the area animal tracks meander beneath the undergrowth; these could possibly be the routes badgers are regularly taking to their feeding grounds. Deer are also evident in the area; there are signs of their scraped bare soil beds and some flaying of saplings where territory has been marked.
Making your way towards the rear of the woodland, a small patch of bluebells interspersed with the dainty white flowers of stitchwort add a splash of colour in spring; this section of the woodland has some oak seedlings growing well and some of them would benefit from being transplanted to other parts of the wood.
The light and sunny spaces throughout Ald Wood offer many opportunities, from additional planting to camping opportunities and great places for a picnic or indeed to base woodland management operations.
The local area around Boroughbridge has many historic sites, including Isurium Brigantum, one of the northernmost urban centres of the Roman Empire and effectively the 'capital' for the Brigantes tribe. Its name is believed to be derived from the Latin name of the river Iseur now the River Ure. It is likely there was a Briganti settlement at Isuruim before the Roman invasion. There are many prehistoric sites along the A1 corridor which partially follows the route of Dere Street. Notably nearby are three ancient standing stones in Boroughbridge known as the Devil's Arrows whose purpose is still a mystery.
The purchasers of the woodland will be asked to enter into a covenant to ensure the quiet and peaceful enjoyment of adjoining woodlands and meadows.
Boundaries:
These are indicated by red markings on posts along the southern, northern and western boundaries; the eastern boundary markings are on trees alongside the track.