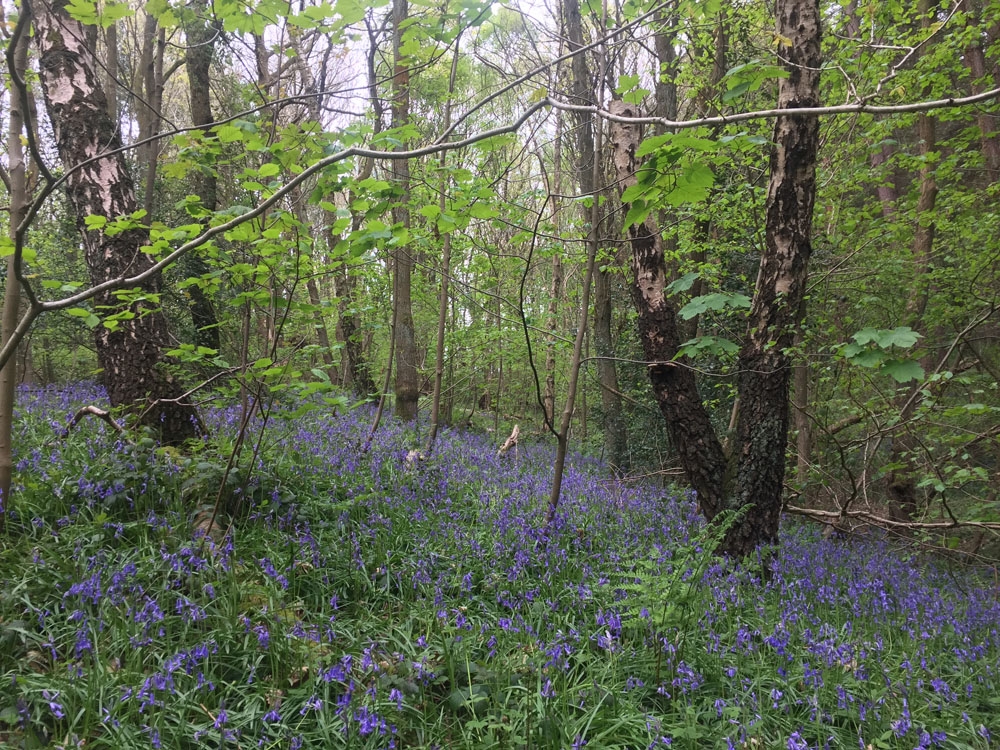 A lovely mix of broadleaved trees and mature pines, Beck Wood at Walton is classified as a PAWS site, which means that the forest has been growing in this location for hundreds of years and trees have been replanted after felling operations.
Beautifully lush in spring and summer, the woodland floor is a carpet of wildflowers. Wood anemones, celendines, stitchwort and many ferns mingle with the vivid carpet of bluebells. The deciduous trees are successfully seeding themselves and amongst the flowers, saplings are flourishing. Here and there, patches of bramble offer great food for woodland butterflies and bees when in flower and the briars a protective shelter for small birds and mammals.
Broadleaved trees dominate in the area all along the eastern side of the wood, close to the beck that flows during the winter or wetter months. There is a varied age structure; large old oaks, ash and sycamore form most of the over-storey, but scattered throughout there are birch, rowan, cherry and wych elm trees. Thickets of holly also offer cover for nesting woodland birds.
More than half of the wood is comprised of deciduous trees, the remainder is fairly mature pine that's grown well and is well spaced. This section of the wood has an open and airy feel though there are quite a few young native hardwood trees, some reaching up tall and straight to compete for sunlight with the pine canopy above.
Honeysuckle tendrils creep across the woodland floor, taking any opportunity to wind up into the canopy and open sweet blossoms to passing pollinators. The constant swishing sound of the breeze in the treetops, even on a relatively still day, is quite remarkable and is ever present alongside the orchestra of spring birdsong, the latter of which is notably subdued by the height of summer when the latest generation have fledged and the adult birds begin their moult.
Walton has a long running history dating back to the Saxon era. The village is mentioned, then called Waleton, in the Domesday Book of 1086, with the village being crown land. The name has changed over the years, but the name Walton, literally translates to 'Welshman's village' with links to Wales pre-dating the Saxon times.
The purchasers of the woodland will be asked to enter into a covenant to ensure the quiet and peaceful enjoyment of adjoining woodlands and meadows.