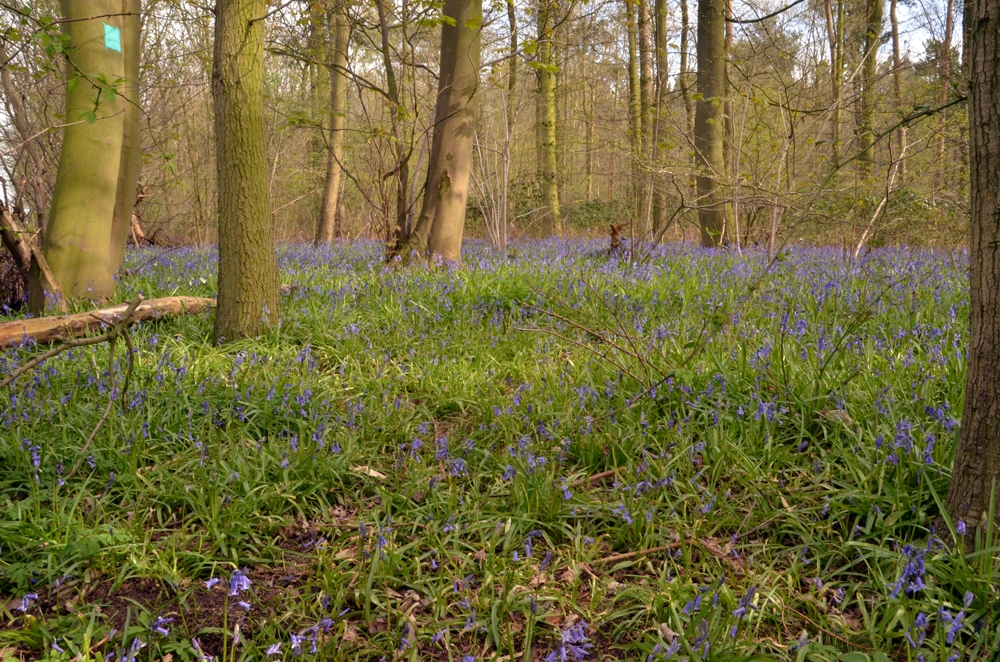 With easy access from a good stone track, Birkhill Wood has much to offer an owner. The site is replanted ancient woodland, and though at first glance, the impressive, forty or fifty year old tall pine trees seem to prevail in the wood, there is roughly an equal number of sizeable maturing oaks too.
Aside from these prized pine and oak, other key indicator species are common beneath the upper canopy, revealing the wood's established history. On entering Birkhill Wood at the ride-stop, honeysuckle is immediately apparent, twisting and binding itself among young birch and hazel stems and occasionally creating the perfect 'twist stick', so prized among walking stick dressers. Once in bloom, the honeysuckle flowers will fill the air with their sweet perfume. The area at the ride-stop entrance is an ideal place to turn a vehicle or stack timber while it seasons or is awaiting collection.
The way leading north, into the wood, crosses a feature in the land, once a drainage ditch and on the bank of which there is a distinctive row of coppiced hazel trees. Coppiced hazel can be found throughout the wood, creating a silvery haze in the wintertime down at shrub-layer. It is a fantastic tree species for ecology: high biodiversity is associated with this type of ancient management where trees are cut back to ground level, on a sustainable rotation every 7 to 15 years.
Around the perimeter of the wood, to the north and west, a strip of deciduous trees has much more open ground beneath. Widely spread about this area are ferns, hairy woodrush and holly trees, growing where the increased light levels encourage other species to take hold and there are also attractive views out of the wood across green pastures. In a clearing beneath some mighty oak trees, a rustic bench is ideally situated, for soaking in the ambience of the forest.
Within the central part of the wood, blackberry bushes create good cover for wildlife including deer as well as for ground dwelling woodland birds such as woodcock. Flocks of tits pass through the canopy and frequently several species will be seen feeding together.
Plenty of timber is available in Birkhill Wood to be selectively felled for craft projects or wood fuel, or to perhaps help restore more ancient woodland species and systems of management.
Birkhill Farm lies, across the fields, to the north of the wood. The name is thought to be derived from the Old Norse "birki" meaning birch, plus the Olde English pre-7th Century "hyll", hill.
The purchasers of the woodland will be asked to enter into a covenant to ensure the quiet and peaceful enjoyment of adjoining woodlands and meadows.