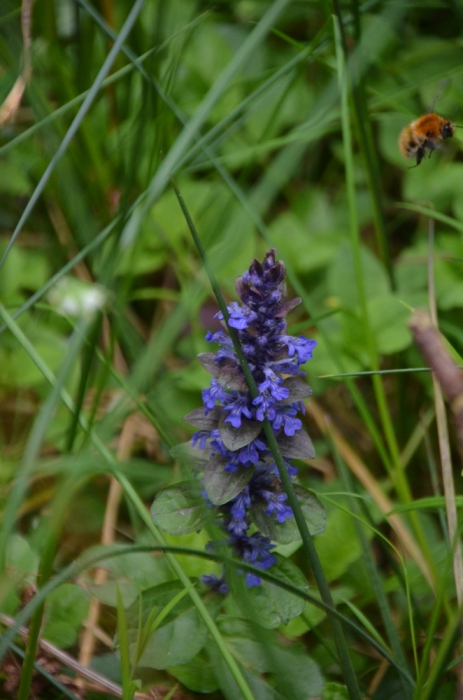 After arriving at Broad Park Wood along the excellent track, it is quite apparent that the wood is characterised by mature, tall straight pines that benefit from the added interest and diversity of a mixed understory.
Close to the southern boundary track, a dense covering of young birch is springing up with oak, hazel coppice stools, sycamore and holly too. The twining stems of honeysuckle are frequent, spiralling around many of the smaller poles, trying to reach the best sunlight; the flowers are incredibly fragrant on early summer evenings. Bracken, ferns and bramble are present at the lowest level of the woodland floor. These combined with the honeysuckle provide excellent protection and nesting sites for small birds and ground dwellers alike.
Birdlife is abundant and tawny owls can be heard calling in the daytime, well-camouflaged woodcock take off, almost from under your feet and friendly robins will follow the visitor around, on the look-out for disturbed insects.
Close to the western boundary, there is more hazel with some larger birch and oak trees. This section of the wood could easily be managed as a productive hazel coppice should the new owner be interested in hurdle-making and other greenwood crafts.
A ride-stop is located at the south western corner of the wood, with space to pull a vehicle in off the track. A little way beyond this, a bench can be found, passed by a number of deer tracks.
Walking up the western boundary in a northerly direction, small willow line the ditch-side and the wood becomes more open in nature beneath the large pines, with even more oak and birch mixed in to add further variety.
Brafferton, the neighbouring village, and Braffawd take their name from a ford across the Swale, being originally Broad-Ford-Town. The village has now become almost one with its neighbour Helperby, located at what was the end of the navigable section of the Swale and a number of pack horse routes. More history of Brafferton can be found here.
The purchasers of the woodland will be asked to enter into a covenant to ensure the quiet and peaceful enjoyment of adjoining woodlands and meadows.