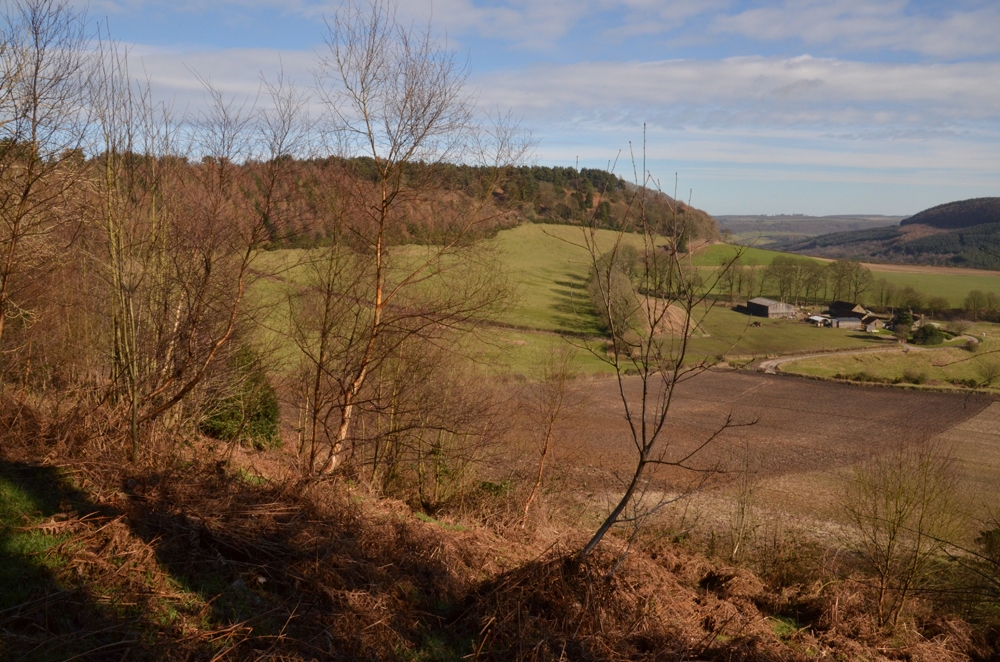 Quietly tucked away, Brompton Wood occupies a peaceful location on the slope and plateau of beautiful Troutsdale. It provides the perfect retreat from the hustle and bustle of everyday life.
Pasture land borders the wood to the east at a lower level and the remaining three sides adjoin further woodland.
Approaching the ride-stop entrance of Brompton Wood following a contouring track, the bank to the right has some young planted larch mixed with a good selection of hardwood trees such as sycamore, birch and rowan: there are also a few oaks and a scattering of holly trees. Further up the bank the tree types change and there is a multitude of self-set pine trees of varying ages. Many are multi-stemmed specimens which would make great climbing trees for the adventurous.
Moving through this area, there is a gradual decrease in the pine cover, giving way to heather and bilberry with fascinating patches of lichen: a "mini-beast metropolis".
The widest section of the wood toward the rear boundary, becomes more densely wooded with pine, birch and gorse dominating with some rowan, dripping with bright berries in the autumn.
The whole of Brompton Wood is superb wildlife habitat, home to a variety of life from microscopic insects right up to large mammals - roe deer frequent the area, woodcock enjoy the low cover which makes for ideal nesting sites, buzzards are often seen and heard overhead and, in the spring, the crescendo of bird song envelopes the visitor.
The local area is steeped in history with tumuli and earthworks. By the end of the Iron Age much of Eastern Yorkshire was covered with a great network of enclosures defined by single and multiple banks and ditches: that the banks supported hedges has been demonstrated through the discovery of snail shells from species that live only in a shady hedge habitat. This network of enclosures could have been constructed to define land ownership. However it is much more likely that they were to assist with stock management and to prevent cattle rustling; wealth was measured in terms of stock not of land.
The purchasers of the woodland will be asked to enter into a covenant to ensure the quiet and peaceful enjoyment of adjoining woodlands and meadows.