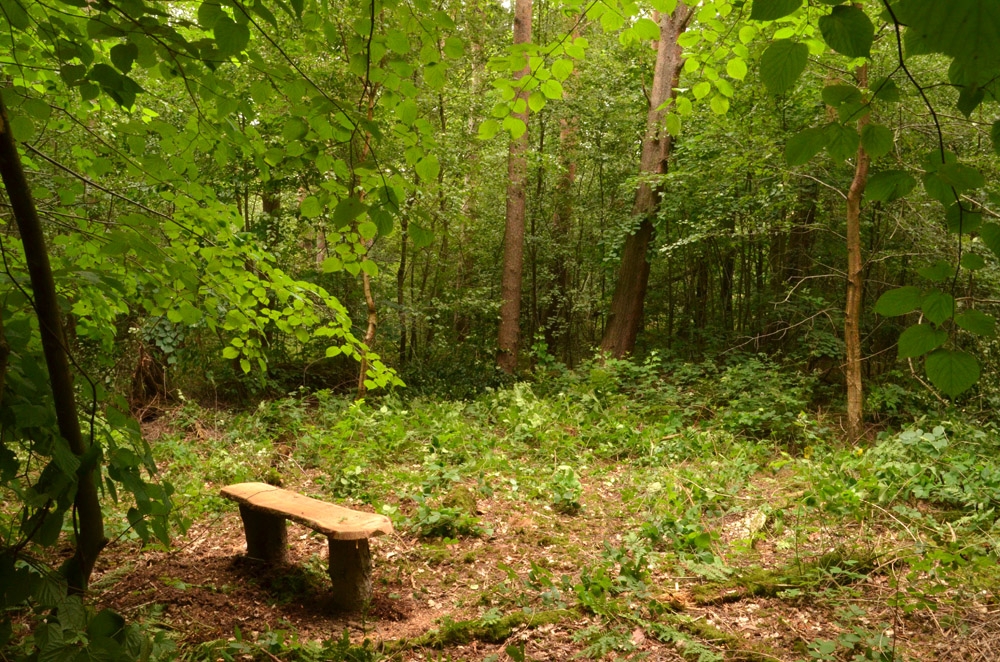 On arriving at the ride-stop entrance in the south western corner of Colston Wood where there is space to park a vehicle, it is a short walk to a clearing where a bench is located: convenient for taking in the surroundings.
At this end of the wood there are many mature Scots pine trees, standing tall with their russet red trunk tops, seemingly soaking in the rays of sunlight. These larger trees are forming the high canopy but also allowing sufficient light to the forest floor to allow the next generation of tree seedlings to take root and thrive; birch, lime and oak are amongst the emerging species.
Walking further into the wood from the bench, the tree cover changes a little as some impressive straight-grown oaks begin to punctuate the pine, some over twenty metres tall, in amongst these, maple, lime and a few large spruces can be found. A few small clearings are lush with ferns, blackberry, nettle and elderberry bushes: the wood is perfect for birds, whose calls accompany you throughout your wanderings.
At the northern end of the wood is a section of water meadow that has been traditionally cut for hay each year. Rich in wildflowers, this is a great location to spot birds, butterflies and other invertebrates and buzzards have often been sighted here.
The northern and eastern boundarys are formed by a stream that holds water for much of the year and at the northern corner of the wood, there is a small wetland area with reeds and bulrushes. These wet areas are a real draw for wildlife and greatly add to the diversity of Colston Wood.
Local village Colston Bassett is famed for is well regarded Stilton cheese. First recognised as a type of cheese at the beginning of the eighteenth century, it was given its name by the village of Stilton, near Peterborough, where it was first made and traded. Protection by a certification trademark (PDO – Protected Designation of Origin) – means that today the world famous cheese can only be made in the three adjacent counties of Nottinghamshire, Derbyshire and Leicestershire. The Colton Bassett Dairy describe the perfect Stilton as 'a rich cream colour with blue veining spread throughout, smooth and creamy with a mellow flavour and no sharp acidic taste from the blue'. The maturity at which it is best eaten varies from cheese to cheese but is typically at around 12 weeks old. A film about how the cheese is made is available to view here.
The purchasers of the meadow will be asked to enter into a covenant to ensure the quiet and peaceful enjoyment of adjoining woodlands and meadows.