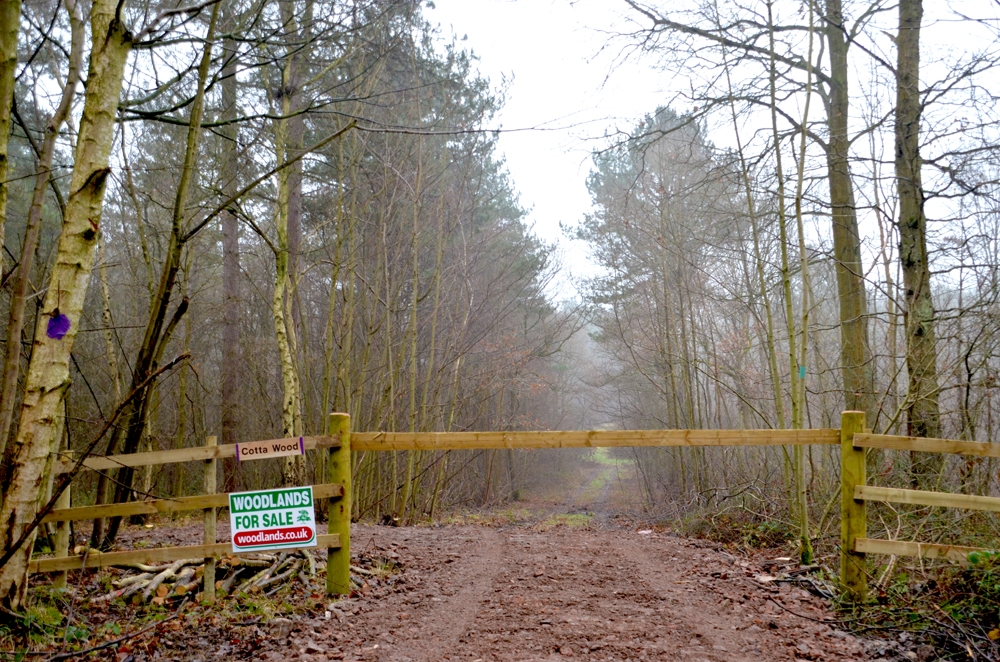 Cotta wood is a very attractive mix of deciduous and coniferous trees with much to offer a woodland owner. Tree species include oak, sycamore, birch, lime, ash, hawthorn, wych elm and some large old pines. Many of the trees are growing in coppiced form, overstood by tall standard trees and there is much useable timber for firewood or greenwood crafts.
Along the southern edge, the stream flows year round. For centuries, people have recognised the health and well-being benefits of water features in their environment for calming and healing and some research has been carried out on this topic. A grass track runs between the stream and the wood. This sunny, open area is an excellent habitat for invertebrates such as bees and butterflies. Insects and birds feed on the wildflowers and hedgerow plants of hawthorn, lime and blackthorn as well as dog-roses which can be found on both sides of the track.
Within the wood, ferns are scattered across the forest floor and patches of bramble afford cover to resident wildlife such as wrens, robins and woodcock. There are clear areas around the blackberry bushes and it is quite easy to get about on foot throughout Cotta Wood. A rustic bench, made of oak, can be found in one such clearing.
The wood is accessed via a good track which forms the western boundary. This has a stone surface to just beyond the ride-stop entrance into the wood, where a car may be driven in: past this point it continues as a grass track all the way to the stream. To the north, Cotta Wood borders other woodland and is marked with wooden posts. The western edge is defined by an old woodland ride.
The local village name of Cotgrave is made up of a personal name, Cotta, + grāf (Old English), grove or copse..so "Cotta's grove". Cotgrave's origins may be in the Iron Age. A 6th-century Anglo-Saxon burial ground has been excavated at Mill Hill to the north of the old village and there was certainly a Saxon church here a century before the Norman Conquest.
The purchasers of the woodland will be asked to enter into a covenant to ensure the quiet and peaceful enjoyment of adjoining woodlands and meadows.