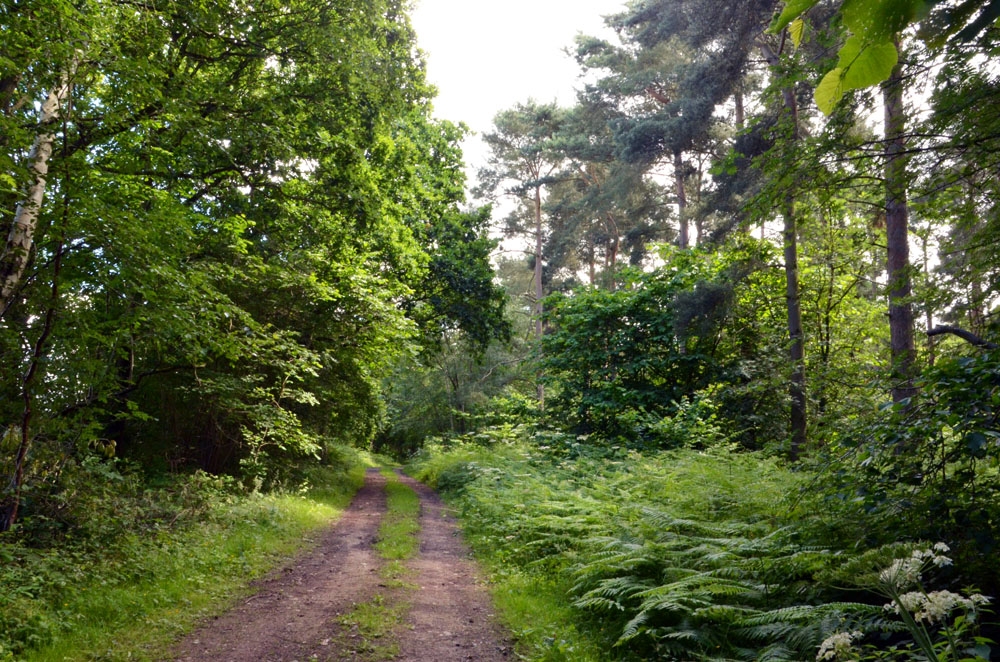 The ride-stop entrance to Forbes Wood is located at its northern boundary and its entrance marked with a name sign. Here, a stoned area provides a convenient place to stack timber while seasoning or awaiting processing or a place to pull a vehicle off the main track: a convenient ramp allows the visitor to strike off into the wood on foot. Close to this entrance, coppiced hazel grows in abundance with some cherry trees, pine and goat willow adding diversity.
The mix of species gives clues to the natural heritage of Forbes Wood which is a planted ancient woodland (PAWS). The main body of the wood has an attractive mix of pine and some larch, now tall, straight and reaching maturity at around 70 years old, but the well-spaced conifers are accompanied by a good deal of established oaks and other native trees, creating the pleasing sense that an ancient woodland is bursting out.
The understorey is well populated by hazel, holly, ferns and blackberry, all creating a very private and secluded feel to Forbes Wood. These bushes also create great cover for wildlife and bird nests can be found at all levels by the careful observer.
On taking the path that leads off from the ridestop, you cross a hollow and continue on, following a cleared path. Animal tracks criss-cross through the whole wood and any number of these could be taken, but heading south about 200m, exploring the wood along the way, you reach the boundary. There you will find views across quiet pasture, grazed by sheep, truly picturesque in the late afternoon sunshine.
Along this southern boundary there are majestic oaks and an obvious animal track running just along the inside of the wood. Due to the southerly and open aspect here, light pours into the wood along this edge, while in contrast almost hidden in the dappled shade of a grove of hazel, there is a rustic bench: ideal for wildlife watching or for soaking up the peace. The wood is a great haven for all varieties of birdlife from buzzards to small song birds.
A path leads off from the bench in a north-westerly direction and emerges half way up the western boundary with views over another pretty meadow. You could follow the edge of the wood, past beech, oak and birch trees, to the track at the north-west corner of Forbes Wood or take another internal path (the start of this route is marked with orange tape), beneath the scented pines, to complete the circle back to the ride-stop.
Forbes Wood takes its name from the Forbes-Adam family, who, for over 300 years to the present day, have owned the neighbouring Escrick Park Estate.
The purchasers of the woodland will be asked to enter into a covenant to ensure the quiet and peaceful enjoyment of adjoining woodlands and meadows.