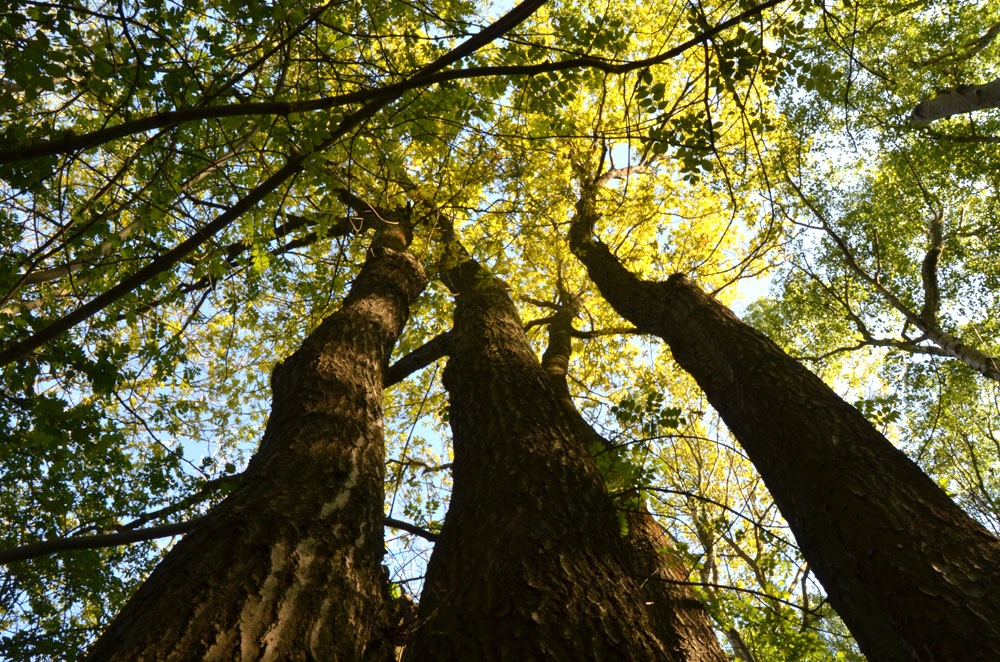 Set upon a gentle slope, Hickling Wood is accessed from a sound track and a ride-stop parking area situated beneath a fine, coppice-grown lime specimen. A meandering path leads off through pine trees, linking small clearings and past coppice-grown lime and elm.
Larger hardwood trees such as oak, sycamore, birch and lime are also growing, reaching up amid the tall planted softwoods. Here and there patches of flowers can be found such as clumps of woodruff and the creeping stems of wild strawberries and there is an abundance of self-seeded trees including ash, sycamore and birch.
The lower (northern) border of the wood is formed by a wetland area with reeds and rushes and a seasonal stream course, edged with willows. This is a rare and rather lovely added feature to have within a wood and is a great draw for resident wildlife; tracks and paw-prints can be found in the soft mud at the side of the stream and many an idle minute can be passed watching sticklebacks make mini bow-waves as they scooch around the pool near the bridge, where the bridlepath crosses.
A bridle path runs outside the southern and eastern boundaries and alongside this is an old hawthorn hedge and ditch. A grassy ride, passable by vehicle in the drier months, defines the western boundary. The extra sunshine along this woodland edge attracts invertebrates such as bees and butterflies.
Many woodland birds can be observed and flocks of long-tailed tits (with other members of the tit family) regularly pass through, while wrens use the low cover to nest and creep, mouse-like amongst the vegetation, catching insects.
The village of Hickling lies to the south east of the wood, in the beautiful Vale of Belvoir, located on the Grantham canal, the historic Fosse Way and Dalby Brook. Roman coins have been found; some evidence exists for supposing that there was a Roman station in the locality. Much of the village lies within a conservation area including 24 listed buildings. Within St Luke's, the 14th century parish church, two ornate grave lids can be found that were made for persons of importance and date from the tenth century.
The purchasers of the woodland will be asked to enter into a covenant to ensure the quiet and peaceful enjoyment of adjoining woodlands and meadows.