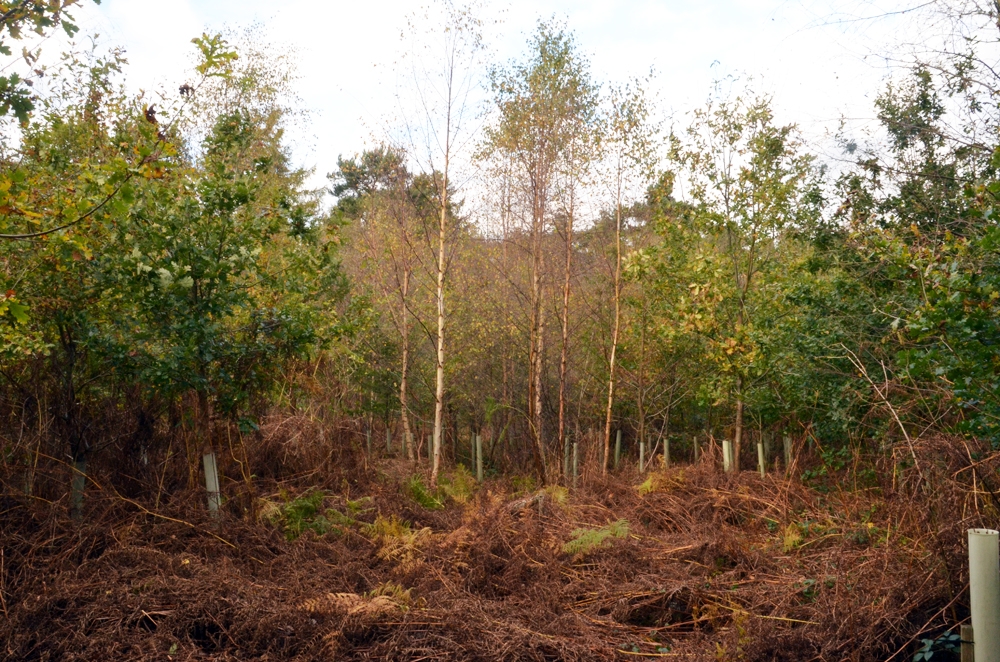 Holly Dene Wood is delightfully varied in age and character, made up as it is, of young planted broadleaved trees in the western part (roughly two thirds), in addition to the mature section of woodland comprising the remaining third on the eastern side.
The ride-stop enters the younger woodland on the northern boundary where there is a ditch crossing and hard standing next to an attractive holly bush. The place is filled with sunlight all day long, though in time, the trees will grow to form a higher canopy. The planting was carried out about ten years ago and the oak and cherry trees, planted in protective tubes have established very well. Between these are a number of self-set birch trees and a few larch of around the same age. Perhaps some of these could be thinned and used as a source of logs for a wood-burner. The ground is fairly level and it would be quite simple to clear some bracken and create a great camping area here.
A good track runs along the length of the northern boundary of the wood and from here it's easy to view and access the mature eastern part of the wood. Tall Scots pines grow alongside sycamore, oak, birch and beneath these lots of coppice-grown hazel and holly seedlings can be found, sometimes entwined with fragrant honeysuckle.
There is a great deal of resident wildlife to be found. Small birds appreciate the cover and berries of holly and blackberry bushes and Tawny Owls can be heard calling, especially in the spring. Deer tracks criss-cross the wood and you may find the cleared scrapes where they make their beds.
The word dene is apparently Old English denu, of Germanic origin; related to den, often used for a wooded area, sometimes with a valley or burn.
The purchasers of the woodland will be asked to enter into a covenant to ensure the quiet and peaceful enjoyment of adjoining woodlands and meadows.
Boundaries:
The boundaries of Holly Dene Wood are marked with orange paint, on trees along the western and northern track edges and on post tops on the eastern and southern boundaries.