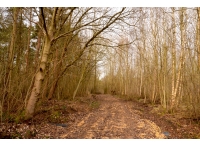 Ideally situated for peace and tranquillity in the heart of Cotgrave Forest, Hutchinson Wood is surrounded on all sides by extensive woodland.
First impressions may lead the visitor to believe that the woodland is made up mainly of large old Scots Pine trees, however on closer inspection there are a good many oaks both large and small, with the trees are growing well, tall and straight, potentially providing some useful timber.
Close to the rides, running along the north eastern and south eastern boundaries, ash and sycamore poles grow in great numbers.
From the ride-stop entrance on the north eastern boundary, a cleared path leads beneath mature standard trees. Originally planted in rows, this pattern has gradually become broken up by the understorey, in fact blackthorn, hawthorn, sycamore and some cherry trees are growing within the wood alongside birch that is springing up here and there.
On the woodland floor, mosses, ferns and grasses are growing amid patches of blackberry and wild rose. All of this low foliage provides good cover for ground-dwelling woodcock, whilst many other woodland birds such as tits, finches and goldcrests can be spotted through the forest canopy. As to be expected of a forest off this size, other wildlife abounds too, with deer being especially common.
The wood is named after the Hutchinson family of the neighbouring village of Owthorpe. During the 17th Century, the family had been minor Nottinghamshire landowners for five generations. They rose through society, marrying into the wealth of other leading Nottinghamshire families. John Hutchinson (1615-64) was a three time elected knight of the shire and was the first of his family to enter parliament. His son however was arrested for scandalous crimes against the king!
The purchasers of the woodland will be asked to enter into a covenant to ensure the quiet and peaceful enjoyment of adjoining woodlands and meadows.