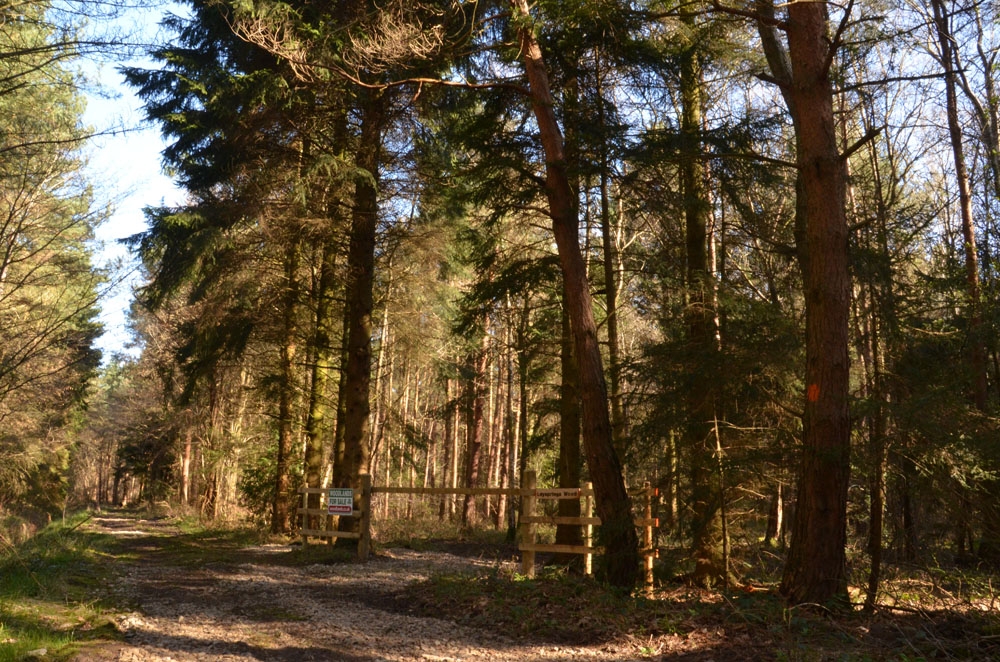 Leysprings Wood is a very attractive woodland that is accessed from the road via a good hard track that forms the southern boundary. Just before the drainage dike, continue north along the western edge of the wood, whereupon the ride-stop entrance can be found. There is space here to park, turn or stack wood if required.
The wood is pleasantly situated on level ground with a diverse selection of tree species including two types of pine; Scots pine and Corsican pine, as well as some spruce trees. Many other native trees are growing amongst these – most of them self-seeded, such as oak, birch, ash, holly and hawthorn, giving a lovely natural feeling of regeneration to the woodland. Throughout the wood there is a scattering of coppiced hazel as well as a few multi-stemmed sycamore trees. The general volume of timber within the woodland is impressive.
Many deer tracks criss-cross the wood and if you are lucky you may catch a glimpse of a roe deer as it runs, almost silently, through the wood. Squirrels are much more audible residents and can be heard rustling through the leaf litter searching for a valuable buried cache of food. With so much evergreen cover in the canopy, combined with the mix of deciduous trees, the wood is very attractive to bird life: finches and tits can be heard up in the treetops and the call of the elusive bullfinch is ever-present.
The floor of the wood is a delightful mixture of ferns, moss, wood sorrel and bracken with a thicket of blackberry here and there providing rewards to the late Summer forager. Rising from these patches, strands of honeysuckle twirl upwards offering great nesting opportunities and occasional constricting the growth of young trees, creating the contorted 'twisty sticks' prized by stick dressers.
A seasonal drainage line lies within the wood and may provide the start to create a pond or wetland area that is so valuable to wildlife.
Leysprings Wood is a perfect woodland for a family to own for camping, den-making and crafts or for those seeking a healthy retirement project with added wildlife.
The wood takes its name from Brafferton Springs, the larger wood of which it is part, and Leys Bridge to the southeast. Boroughbridge and the surrounding landscape was an area sacred to our ancestors and has no less than seven henges and at least two Cursus (ritual earthworks), as well as the'Devil's Arrows standing stones. It would be fascinating to know how far into the past our ancestors have managed this woodland for their needs.
The purchasers of the woodland will be asked to enter into a covenant to ensure the quiet and peaceful enjoyment of adjoining woodlands and meadows.