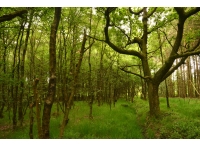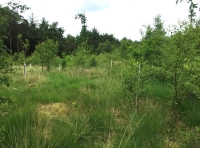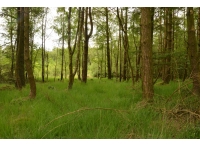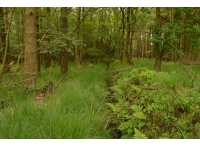 Located next to Moor Piece Nature Reserve, Moor Wood is reached via a good stone track which also forms the northern boundary.
The woodland is comprised of three differing and quite diverse habitat types, the first of which is heather moorland in the area around the ride-stop entrance. Here sunlight reaches the ground and warms the soil and flowers in summer; insects visit and in turn attract varied birdlife. There is space for a vehicle here and a useful stoned-up hard-standing for stacking timber awaiting collection or for seasoning firewood.
Roughly one-third of the wood, toward the eastern boundary, is a more established area of birch, oak and some larger, planted softwood trees. The feel here is of an older woodland, open and easy to walk through, yet secluded and peaceful.
The remaining third of the wood is young trees, planted around 7 or 8 years ago, predominantly oak and beech as well as some naturally seeded birch and conifers. Grassy tussocks, bilberry and heather are growing on the woodland floor adding a lovely feel. Signs of deer passing through are evident, mostly roe but occasionally sitka deer too.
Along the west and southern edges are old wood-banks, with feature trees of older age and maturity dotted along the length. This southern wood-bank is the boundary with Moor Piece Nature Reserve, managed by Lancashire Wildlife Trust, (please note, a permit is required to visit the reserve). Surveys show that a great deal of wildlife species are present and as many as 38 varieties of bird breed in and around the reserve including pied flycatchers and redstarts.
Just to the north of the wood lies an Elizabethan manor house owned throughout its history by the Parker Family. Browsholme Hall is a nationally important Grade I listed historic house with a pre-eminent collection of historically associated antiques, paintings and furniture of museum quality. The Hall was 'H' shaped originally, having an impressive central hall with the parlour wing to the west and kitchens to the east. Over successive centuries the house was modified and today it remains a private house, owned by Robert and Amanda Parker, open for visitors.
The purchasers of the woodland will be asked to enter into a covenant to ensure the quiet and peaceful enjoyment of adjoining woodlands and meadows.