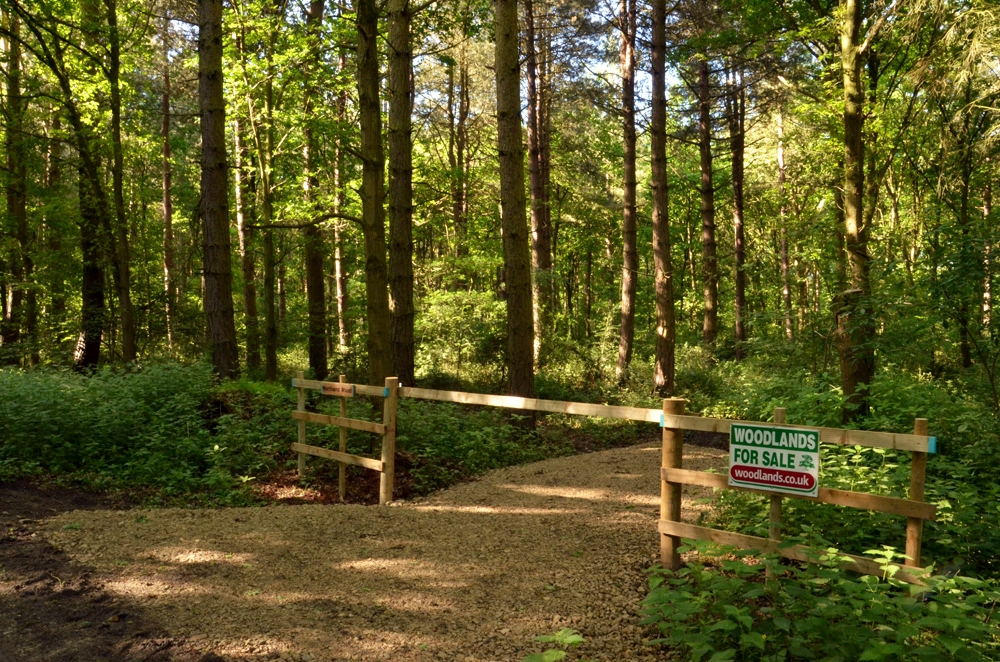 Northland Wood is approached via a good stone track that runs along its north-eastern boundary; a ride-stop entrance with convenient stoned-up parking space is located at the northernmost point.
From the track and ride-stop it is apparent that this upper section of the wood is made up of large pines and straight grown oak of a truly impressive size. In the deep shade and dappled light of this mature woodland, the ground flora is a mix of ferns, blackberry, bluebells, hazel and a little rhododendron adding a vibrant splash of colour when in flower.
A clear path leads off left from the ridestop and takes the visitor on a meandering route beneath the majestic trees, close to a seasonal pool and then alongside an ancient drainage dike where grasses and ferns grow. The path leads on beyond a screen of evergreen rhododendron and emerges into a picturesque clearing and sunlight: a rustic bench sits beneath the oaks here. This would be an ideal place for a campfire with friends, to cook upon, or to sit and quietly observe the resident wildlife, including woodpeckers and goldcrests
A circular path, following deer tracks leads off from this spot and scrapes, or deer beds, can be found amongst the leaf litter.
From near the bench, the second part of the wood can be easily accessed. In complete contrast to the other parts of the wood, this is more like a wooded heath with young planted native trees, such as cherry and oak in protective tubes, as well as some self-set birch saplings. The young trees are thriving in the bountiful sunlight and there is a great opportunity for the new owner to shape the future character of this wood. Foxgloves, tussocks of grasses, rose and bluebells flower freely.
The south-western boundary of the wood is formed by a grassy track, along which a permissive footpath is routed. Within this southern section of the wood, a seasonal watercourse, bordered by established hedgerow trees, runs out of the wood towards Northland Ings on the low-lying ground to the south, next to the River Derwent.
The wood is named after Northland Ings, lying just to the north of the village of Sutton-Upon-Derwent. The first written record of the Sutton area appears to be of the River Derwent which was recorded by Bede in the 8th Century. He notes the DERUUENTIONIS FLUVII which is from the Celtic meaning "river where Oak trees grow abundantly".
The purchasers of the woodland will be asked to enter into a covenant to ensure the quiet and peaceful enjoyment of adjoining woodlands and meadows.