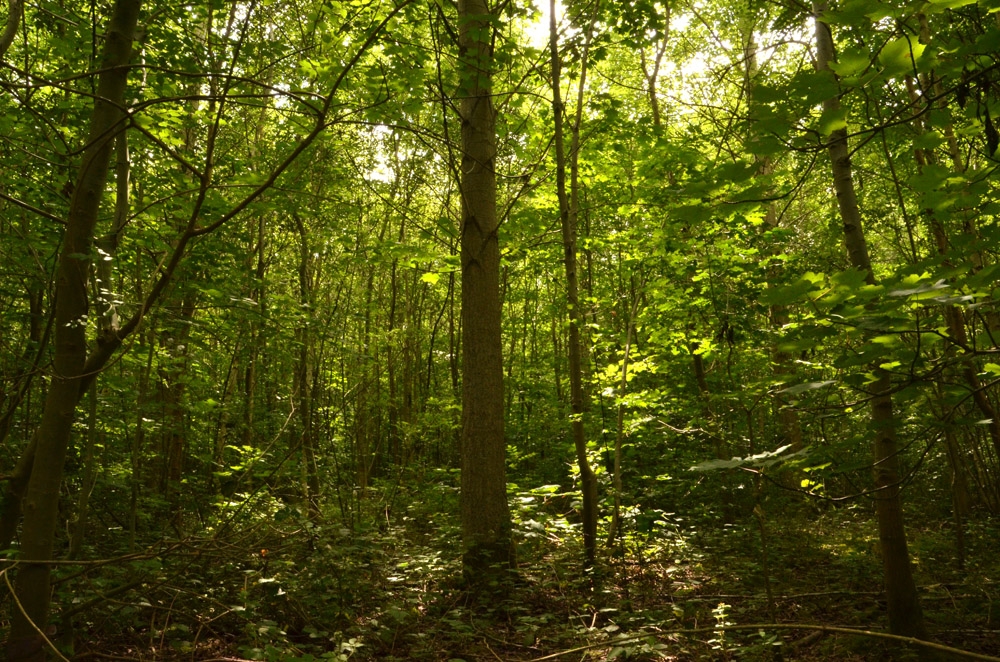 Replanted about twenty years ago, Notts Wood in Cotgrave Forest, is growing very well into a useful, well balanced and well stocked woodland. The larger and faster growing poplar are interspersed with a varied mix of hardwood trees such as birch, ash and sycamore and there are also some willow and hawthorns dotted around. The poplar could be thinned for domestic firewood: a common use of poplar is as wood for making matches.
There are many trees that haven't been specifically planted too: the woodland is thriving form naturally set seedlings and young trees. Also adding to the regeneration, with multiple stems from previously cut trees, lime is the most prolific as well as self seeded oak.
Close to the stream that runs along the western boundary during the wetter months of the year, grow yet more limes, sycamore and birch, plus a few and very welcome elm. A walk close to the stream bank reveals deer tracks; the resident muntjac and roe deer populations use the same paths. Perhaps this would be a good location for a camera trap?
The remaining three sides of the wood are defined by grassy rides: to the north there is a shared hard surfaced track, to the south and east (the latter providing access to Notts Wood) are private, grass-covered rides. All are excellent habitats for butterflies and Cotgrave Forest is home to both the extremely rare purple emperor and the elusive white letter hairstreak butterfly.
A rustic bench is located close to the ride stop entrance, an ideal place to soak in the surroundings. The woodland floor is filled with ferns and blackberry bushes and it is quite easy to get around on foot from here.
The Vale of Belvoir around Notts Wood is world renowned for two great specialities: Stilton cheese and pork pies. Only six dairies are allowed to produce Stilton cheese and up until the end of the 1800's, all Stilton was being produced within a 20 mile radius of Melton Mowbray. Despite this, the cheese took its name from the village of Stilton in Huntingdon, where it was served at inns along the Great North Road. Melton is also the home of the Melton Mowbray pork pie, this is made using traditional methods, using uncured pork, hand-formed pastry and served cold.
The purchasers of the woodland will be asked to enter into a covenant to ensure the quiet and peaceful enjoyment of adjoining woodlands and meadows.