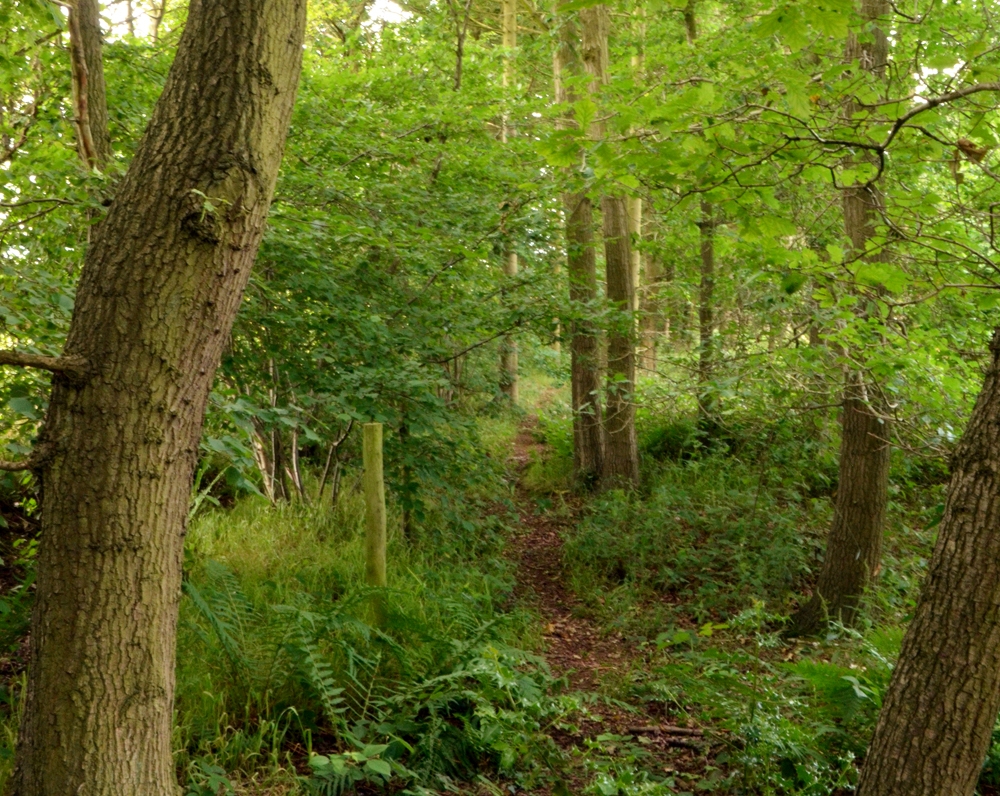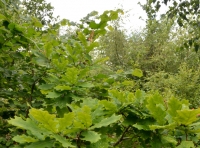 Access to the firm and stoney ride-stop entrance of Park Wood, is along the well established and solid internal tracks within the greater Moreby Wood. A mown foot track leads from this useful stoned-up area, through young oak trees, to a light clearing where a bench is situated and this is an obvious location to reflect upon the wonderful and differing characteristics of Park Wood or to sit and perhaps watch buzzards wheeling overhead, with their occasional mewing call.
This central area is comprised mainly of planted oak trees that although relatively young, are well established, and will soon begin to reach up to the surrounding taller oaks that are around fifty years old. The young birch here are thriving too, as well as the occasional and evergreen holly and spruce tree: all are growing well on the fertile and well drained land and will soon be well above head height. A new owner who would like to carry out some management activity to further enhance the quality of emerging forest, could encourage these trees to grow straight and tall with relatively little work. In the more open and sunny spaces, wild honeysuckle is thriving and will seek to hitch an upward ride on a competing host sapling. In summer these twining and fragrant flowers will provide energy to insects seeking valuable nectar and they may unwittingly pollinate the honeysuckle in payment.
A clear route from the main track follows the southern and western edges of the wood, beneath tall and whispering pines. This is an older and more varied part of the wood: along this boundary, a long drainage channel holds water that is a great draw for insect, bird and wildlife alike and there is also coppiced oak and hazel, with pretty groves of wild cherry waiting to blossom pink in Spring. Here and there, much older boundary trees, commonly of oak, are standing tall and spreading their boughs. The mighty oak will support more life forms than any other native tree and in the Autumn acorns may be eaten by deer and badger. Between these specimen trees there are attractive views to the south, across pasture and arable fields.
Wooden posts with blue markings form the northern boundary and it is possible to explore this line using animal tracks. In this area, next to the dense birch, bluebells will be flowering in Spring and there are deer scrapes here too. Occasionally, flapping woodcock or pheasant may be put up, perhaps even a hare: all like to hide out where there is good ground cover such as a bramble patch or bracken. Continuing the circuit, the boundary crosses an open area where there are more tall oak trees before returning to the track at the T-junction.
Just to the west of the wood, Moreby Hall, with medieval origins, has formal gardens surrounding a country house with a landscaped park beyond. Its features include topiary, geometric beds, a pond and woodland. The present hall was built between 1828-1833 by the owner at that time, Henry Preston, the High Sheriff of Yorkshire. He commissioned the architect Anthony Salvin to build a new manor in the "Tudor style". Nikolaus Pevsner, a renowned scholar of the history of British architecture, noted Salvin's work as "highly accomplished work for one not yet thirty." Moreby was constructed of sandstone ashlar with a roof of Welsh slate. The cost of the construction, completed in 1833, was £40,000 (equivalent to £3,059,719 in 2016!). As part of this rebuilding of Moreby Hall, the existing parkland was probably extended, and terraced gardens were laid out containing topiary, summerhouses, a rosary, a bowling green and a serpentine lake.
The purchasers of the woodland will be asked to enter into a covenant to ensure the quiet and peaceful enjoyment of adjoining woodlands and meadows.