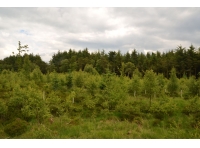 The tranquillity of Parker Wood may at first seem like silence, but listening closely, all around birds can be heard calling as breeze blows through the pines, spreading aromatic scent. Why not sit on the south-facing bench a while and take it all in?
A whole host of bird species make their home here. Woodcock reside in the wood and the surrounding area; the type of cover here is ideal for them. Geese regularly pass overhead, moving between the wetlands of the Forest of Bowland AONB and Hodder and Ribble valleys. Buzzards are also commonly seen, circling on thermals with their plaintive mewing call.
The woodland was clear-felled and replanted some years ago. Pine and birch have colonised the area well, naturally seeding amongst oaks, planted in protective tubes. Mostly now a young woodland, there are some small remaining areas where more planting could be carried out to further increase diversity or kept as sunny dells where heather blooms in the summer sunlight.
Occasionally a rhododendron bush provides a visual barrier and evergreen cover for birds. Close to the lane, a section of the wood is more mature with quite a number of large spruce and larch trees, mixed amongst which are some birch and oaks.
The lower boundary is formed by a bank, running the full length. Beyond this bank is Moor Piece Nature Reserve, run by Lancashire Wildlife Trust. Parker Wood is surrounded by woodland on all sides with the wildlife benefits this brings, and still with views of the beautiful hills amongst which it is set.
The wood takes its name from the Parker family who have resided in the adjacent Browsholme Hall (pronounced 'Brewzum') continuously since 1507. A unique historic house, not least for its picturesque gardens and fourteen generations of accumulated possessions. The hall also has an 18th Century Tithe Barn, now a tea room.
The purchasers of the woodland will be asked to enter into a covenant to ensure the quiet and peaceful enjoyment of adjoining woodlands and meadows.
Boundaries:
The boundaries of Parker Wood are marked in blue, on trees along the track that forms the northern boundary. Blue markings are on posts along the eastern boundary, the southern boundary also has marking on trees and a wood bank running its entire length. The western boundary is alongside Rabbit Lane with markings on trees.