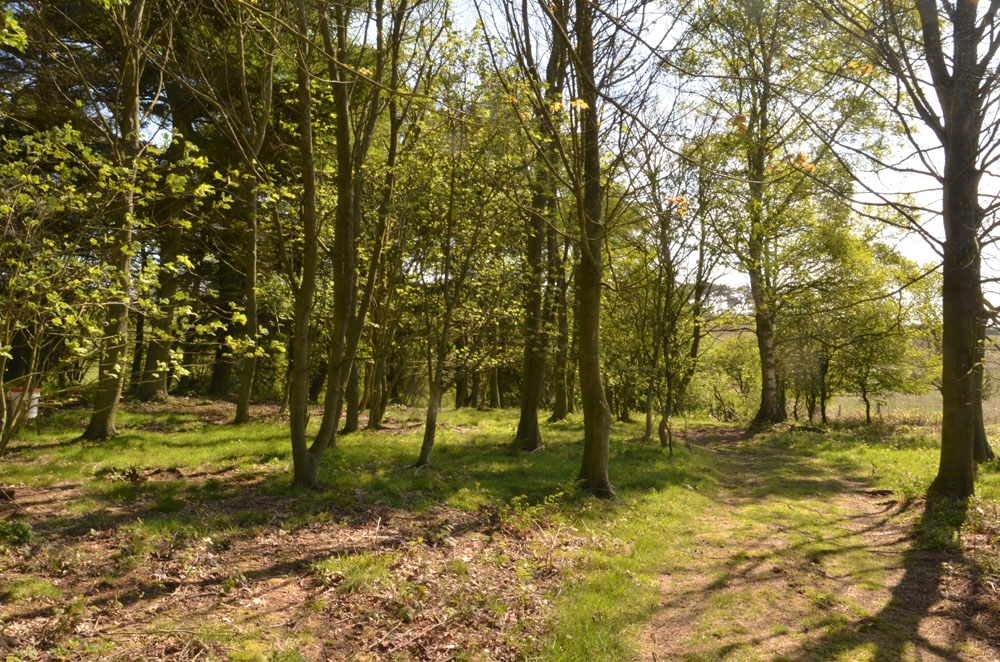 The visitor arrives at Simpson Wood through a gate from a country lane at the eastern edge of the land. When entering the wood, which is linear in form and follow the contours of Irton Moor, the first section, which makes up roughly a third of the whole offering, is planted with young and flourishing sycamore and cherry. The odd pine tree is also scattered through and quite a number of self-seeded trees such as hawthorn and willow have established themselves too. A thorn hedge runs along the northern and southern boundaries of this part of the wood.
As your walk continues along a rough track, suitable for a 4x4 type vehicle, the landform drops away into a sheltered hollow and a change in character is quite noticeable as you reach an area of more mature woodland comprised of larch, well-established coppice-grown sycamore and some birch and rowan, growing alongside a few ash trees.
Emerging from these trees there are sun-filled grassy clearings which would be ideal for new woodland tree planting or even edible forest gardening with groves of fruiting plant varieties alongside the occasional wild raspberry bushes that can be found here.
As well as being an ideal management project, Simpson Wood also offers great camping possibilities for quality time spent with family and friends.
At the western end of the wood there are further coppiced sycamores with good firewood potential and the view from this part of Irton Moor is very attractive indeed.
A site on Irton Moor was excavated by Archaeologist Derek Simpson in 1973 and work has now been done to bring the report to publication. Irton Moor represents a small structured round cairn of the Early Bronze Age producing evidence for long-term occupation of the site from the Early Neolithic though this occupation does not appear to have been continuous. The cairn was used for Food Vessel and Collared Urn-associated cremations.
The purchasers of the woodland will be asked to enter into a covenant to ensure the quiet and peaceful enjoyment of adjoining woodlands and meadows.
Boundaries:
Boundary markings are in mauve on trees along the norther, eastern and southern sides with the western end marked on posts.