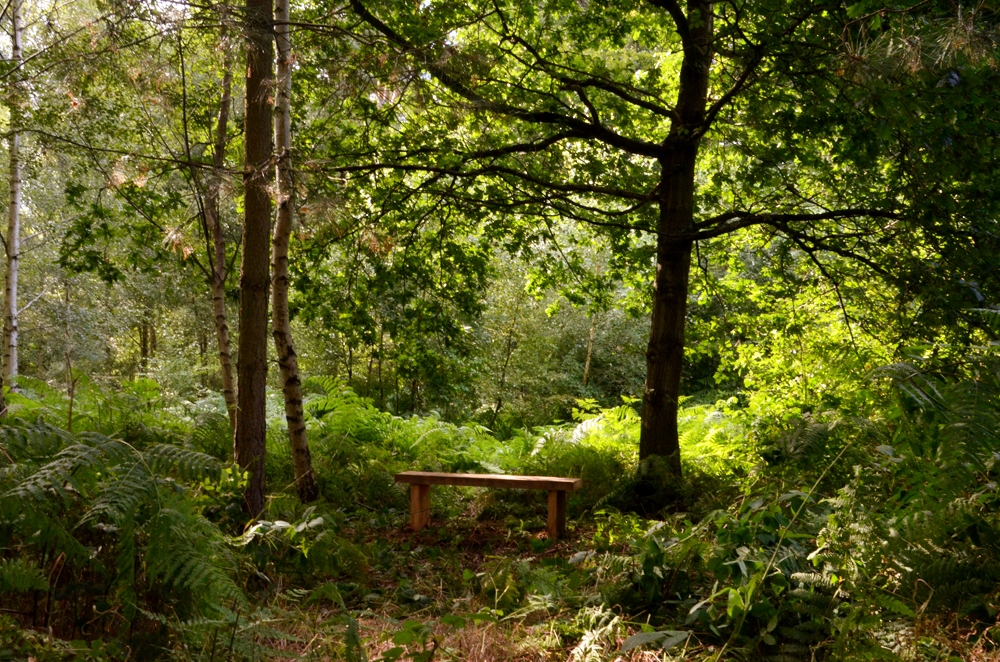 Located in a peaceful rural area, 14 miles from York, St Lois Wood is a native broadleaved woodland, on a sandy ridge above the River Derwent.
Arriving at the ride-stop entrance to the wood, next to a young oak tree, you will notice that the first section of the wood is primarily birch trees of around 20 years old; the striking white stems illuminated by dappled sunlight and the canopy turning stunning shades of yellow in autumn, reminiscent of a Gustav Klimt painting. On closer inspection, there are other species of trees scattered amongst and adding welcome diversity, including pine, oak and rowan.
At the entrance there is an area to stack timber or park a vehicle while working and a cleared path leads off from here through the birch. Striking off to the left after about 20 metres, this path arrives at a spreading oak tree under which is located a convenient bench. This is a great spot for a rest in the shade of the tree or for quiet wildlife watching.
Deeper into the wood is more birch, but here the trees were coppiced about ten years ago for making horse jumps. The regrowth is much denser and is a secure and dense nesting habitat for birds such as long tailed tits and bullfinches. The foot path route follows a deer track through this cover and emerges toward the northern edge of the wood into a third area of character, that of mature oak and aspen and in the mature hedgerow, species such as hawthorn, blackthorn, damson and cherry flourish. The field boundary is also defined by a drainage ditch. Views out of the woodland from here are across small arable fields towards St Lois Farm and the pretty village of Newton on Derwent.
St Lois Wood is full of wildlife, especially noticeable in the spring. Mammal visitors include roe deer, badgers and foxes as well as squirrels. Buzzards are often heard calling overhead and tawny owls are in the area too. In the sunnier glades and long the woodland tracks, invertebrates such as bees, dragonflies and butterflies seek out their food and are, in turn, food for the birdlife.
From late summer onwards, many different fungi start to emerge such as earth balls and stinkhorn and even the distinctive fly agaric, with its white spotted, red crown.
St Lois Farm has developed around a scheduled ancient monument, a moated structure, possibly dating from around Norman times. It occupies a strategic position above the River Derwent, and along with a similar structure, known as Giant's Hill Motte, located in Sutton Woods, it is thought they were probably positions to defend the river crossing.
The purchasers of the woodland will be asked to enter into a covenant to ensure the quiet and peaceful enjoyment of adjoining woodlands and meadows.