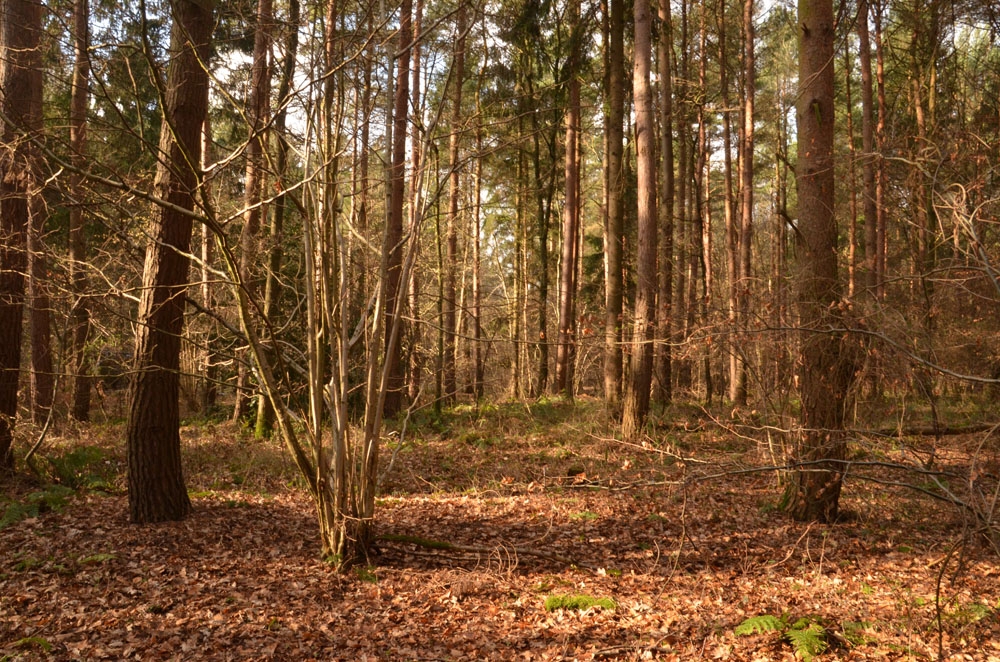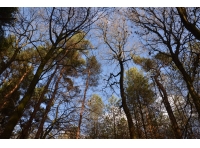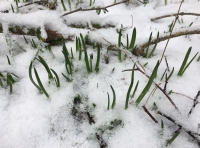 Swale Ings Wood is designated as a planted ancient woodland site (PAWS) and there are many species growing that are associated with ancient woodland such as bluebells, hazel, wood sorrel, ferns, sedges to name but a few.
Most of the woodland floor is clear of obstruction, making for easy access on foot throughout. Ferns are regularly spaced and patches of bluebells offer an attractive display of colour in mid-spring. Around this time too, the spiralling tendrils of honeysuckle start to burst into fragrant bloom as they wind their ways up to the woodland canopy, seeking the sunlight.
Softwood trees have been planted, some around 35 years ago and some 60 years ago, made up of mainly Scots pine with some Corsican pine. These plantings are growing tall and straight amongst naturally seeded oak and beech. The understorey is made up of some coppiced hazel stools together with willow and sycamore. Here and there, holly provides some cover for birds and good browsing for the roe deer who frequent the area. Their beds, or scrapes, can often be found in the wood.
Many species of bird make their home here. The diverse tree cover and seclusion offer great habitat. Sitting carefully and quietly at the bench, it may be possible to observe and hear buzzards overhead or possibly even the hoot of a tawny owl.
Easily accessible along a good and hardened track, Swale Ings Wood is of a size that would give an active woodland owner a great opportunity to gradually shape and manage it back to its origins as broadleaf standard and coppiced woodland, while providing a very useful and valuable supply of firewood logs and timber for woodworking projects.
Located within the Hambleton District, in the Vale of York, between the beautiful Yorkshire Dales, North York Moors and the Yorkshire Wolds, the wood is situated less than a mile from the River Swale. Several important archaeological and prehistoric sites lie within a short distance, including the The Devil's Arrows and Aldborough Roman Town just outside Boroughbridge and the famous battle fields of Marston Moor and Stamford Bridge.
The purchasers of the woodland will be asked to enter into a covenant to ensure the quiet and peaceful enjoyment of adjoining woodlands and meadows.