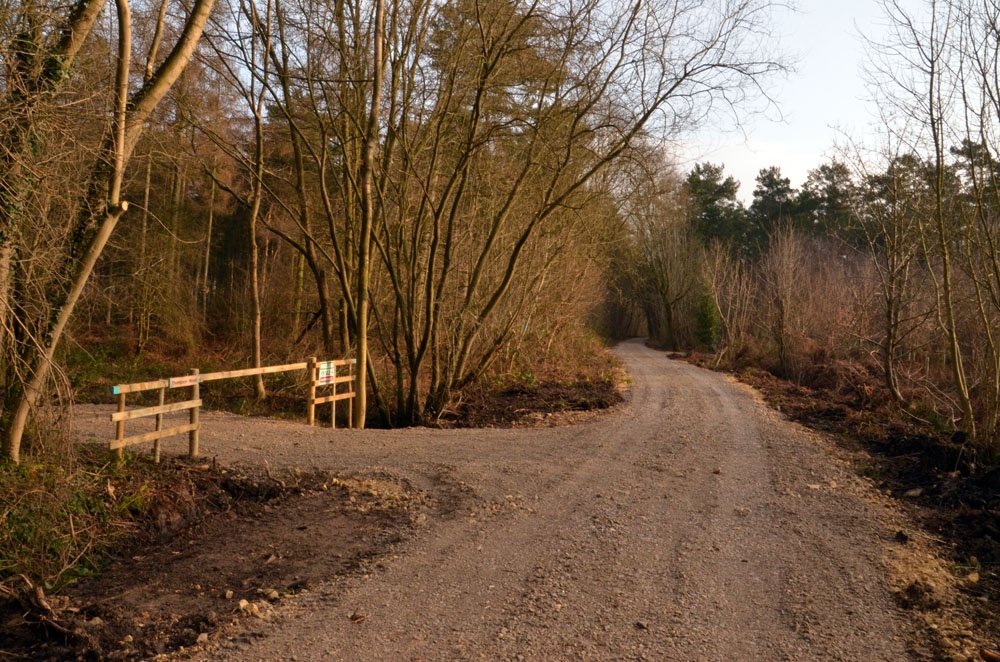 The visitor arrives at the ride-stop entrance to Thompson Wood along a well made forest track with year round access. Here there is a welcoming sunny, southerly aspect and a light canopy belt of tall larch trees that allow more sunshine to reach the bracken and fern covered woodland floor.
The larch comprises about a quarter of the wood. A dense section of coppiced hazel, thorn and oak, all along the western edge, borders a drainage dyke and forms a good screen to the main track that runs further into the Thompson Wood. A lovely mix of evergreen holly bushes, birch, honeysuckle and hazels are dotted throughout the wood, completing the shrubby understorey, home and protection to much ground dwelling birdlife.
The largest proportion of Thompson Wood, roughly half, is made up of majestic Scots pine, with more coppiced hazel and blackberry bushes beneath. These trees are growing straight and strong; the floor beneath, aromatic with pine needles.
Deer tracks help to give excellent access around the wood; following one such track in a north eastern direction from the ride-stop area, it leads to a rustic bench situated on a small bank, between two pines and looking out across the bright and airy larch glade.
Thompson Wood is of an easily manageable size, yet feels very private and secluded, a perfect place to get away from everyday life.
Sir Henry Thompson, Lord Mayor of York, successful wine merchant and ancestor of current owner of Escrick estate, purchased the Lordship of Escrick in1668. Sir Henry is said to have made a carriage way from York to Escrick in 1672, presumably an improvement to the then existing York road.
Over the next 150 years the Estate increases in size and grandeur. The bridge by which the road crossed Bridge dike was rebuilt by later successor Beilby Thompson in 1776, who also had the village of Escrick moved to the north of the Manor House. In 1781 he secured an Act of Parliament to facilitate the 'many considerable improvements' which he proposed to make around the hall.
The purchasers of the woodland will be asked to enter into a covenant to ensure the quiet and peaceful enjoyment of adjoining woodlands and meadows.