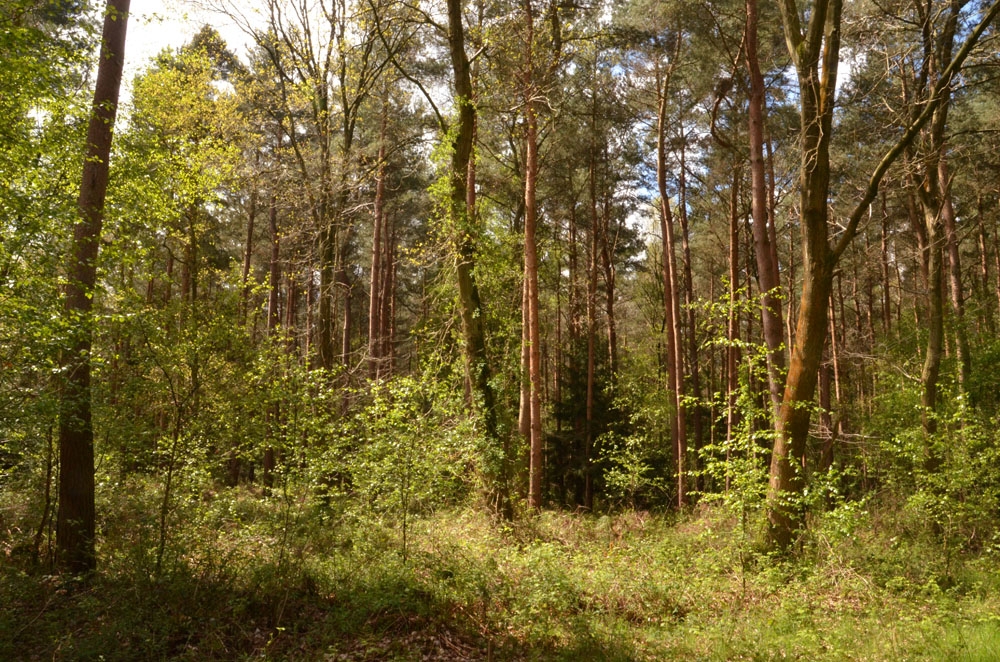 The sound of the breeze through the tall, red trunked pine trees, emphasises the sense of tranquillity for visitors to Throstle Wood. The visitor feels gently transported from the rest of the world, to a place where sunshine, birdsong and the earthy scents of leaf-litter and pine needles fill your being.
Gazing up through the canopy, a buzzard is likely to be wheeling overhead with its characteristic 'mewing' call. Growing equally straight and tall among the pines, a number of oak trees add diversity. At a lower height, birch, young spruce and holly give cover, adding to the privacy and providing a valuable home and food source for the resident wildlife.
Bracken and ferns carpet the woodland floor, a russet-coloured carpet in winter, jewel like and bright green in summer. Deer love to bed down amongst this, patches scraped bare prove their presence and animal tracks criss-cross the woodland. As you move quietly through the wood you may be lucky enough to witness a woodcock's rolling, flitting and tumbling flight as it waits until the last possible moment to make an escape: both parties startled!
At the northern end of the wood, the trees are less dense with just a few self-set birch trees amongst the pine. Along the western edge, a drainage ditch flows year round and forms the boundary while also providing a draw for mammals, birdlife and invertebrates. Flanking this water feature are a number of coppiced hazel stools with some birch, hawthorn and oak trees.
A stone track leads from the road to where a grassy track turns right from this and brings the visitor to the ride stop entrance, situated at the western edge of the wood: beyond this there is a firm stoned up area with space to park a vehicle or erect a forestry shed. A short walk on from here, a rustic bench is situated at a good vantage point to survey the surroundings and take in the peace.
Throstle Wood is located within the Vale of York which, with the Vale of Mowbray, is a broad plain lying between the fells of the Yorkshire Dales to the west and the hills of the North York Moors and the Yorkshire Wolds to the east. Several important archaeological and prehistoric sites lie within striking distance, including the The Devil's Arrows and Aldborough Roman Town just outside Boroughbridge, as well as the famous battle fields of Marston Moor and Stamford Bridge – the latter thought to be pivotal in the success of the Norman conquest of Britain.
The purchasers of the woodland will be asked to enter into a covenant to ensure the quiet and peaceful enjoyment of adjoining woodlands and meadows.