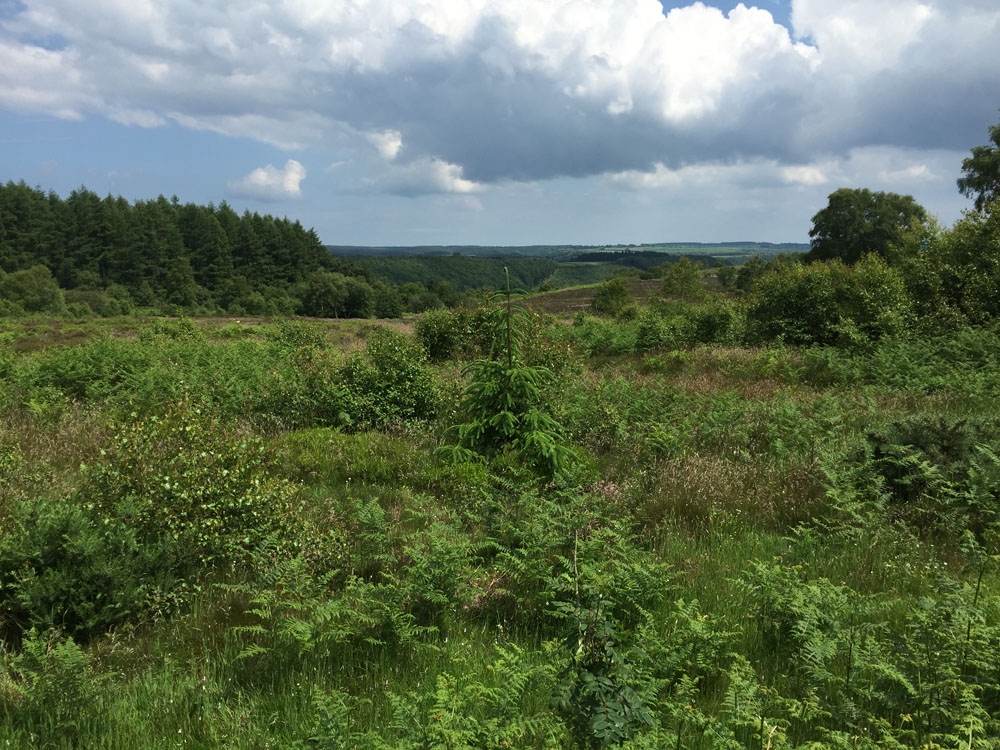 Two Barrows Wood is part of a larger woodland called Troutsdale Moor, nestled on the eastern boundary of Dalby Forest, in the North Yorkshire Moor National Park; a well-known destination for walkers and mountain bikers and not far from the East Yorkshire Coast.
As the name suggests there are two barrows (also known as tumuli) present in the woodland, constructed sometime between 2400 and 1500 BC. These earthen mounds are scheduled ancient monuments, the largest of which is almost 2 meters high and 33 metres in diameter. When the barrows were created they would have had commanding views over the dale, encircled with rocks they would have been tended to keep vegetation low. In the area there are many more archaeological features including field systems and the remains of prehistoric field divisions.
There are clear boundaries around most of the woodland in the form of wood banks, which are often thought to date back to the early nineteenth century but could be even earlier than that.
Two Barrows Wood is a young and, in places, quite dense woodland, planted about 25 years ago with larch and pine. Self-seeded birch and rowan are growing vigorously throughout with a scattering of oaks developing amongst the faster growing hard and soft woods. Deer are common throughout the wood and surrounding area while the birdlife is prolific in this secluded landscape.
On the floor, patches of productive bilberries offer a passing snack to both the resident wildlife and passing humans whilst the purple flowering heather gives a great show of colour in summer and autumn. Parts of the woodland are carpeted with wood sorrel and clearings located along the western edge of the wood have attractive patches of speedwell dotted along this boundary are some large old boundary trees and gnarled old hawthorns. These are the ideal resting place for the resident tawny owls or buzzards to survey the woodland floor and the open space beyond the boundary.
The most quiet and tranquil of locations, Two Barrows Wood is a perfect place to relax and unwind and leave the hustle and bustle of everyday life behind, it is also a fantastic source of firewood for home use and, with many flat areas, offers great camping opportunities for family and friends.
The purchasers of the woodland will be asked to enter into a covenant to ensure the quiet and peaceful enjoyment of adjoining woodlands and meadows.