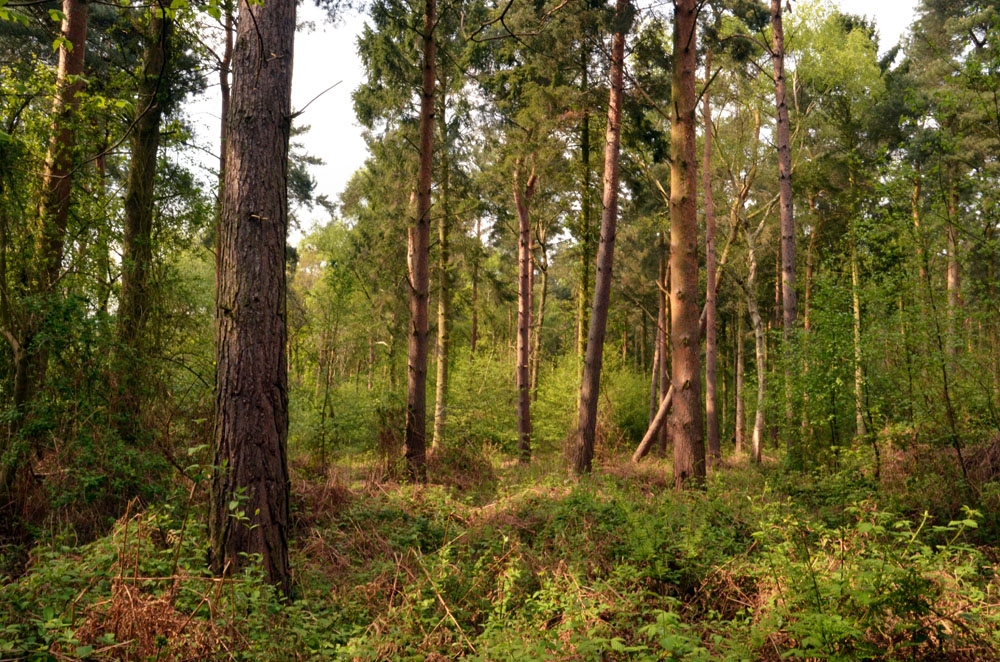 A good sound track leads from the main gated entrance near the beck, to the south eastern corner of the wood: a few metres on is the entrance of Wenlock Wood where there is a stoned up area, ideal for parking or stacking timber.
The visitor will be able to see that the wood contains lots of straight grown pine trees, well-spaced and around 50 years old. There are a few other conifers too but there is also a great volume of deciduous trees; coppiced hazel is everywhere along with birch and some oak.
The wood is home to a fantastic diversity of wildlife and deer tracks criss-cross the wood. In addition to these, a cleared route runs from the ride-stop, through the vigorous growth of hazel and birch that help screen the wood from the track; it emerges at the edge of a bracken filled clearing beneath pines, a space that is filled with late afternoon and evening sunshine from the western boundary and an ideal location for a basecamp.
The continuation of the route splits at the edge of this clearing and the path leading to the right squiggles through fragrant honeysuckle-cloaked hazels, until the vegetation opens out again and bracken fills a glade next to a well pecked, dead tree trunk and several animal tracks converge. A bench has been placed here for watching wildlife or soaking in the ambience of the surroundings.
Along half of the western boundary of the wood, there is a view out across pasture land and a narrow path flanked by bluebells, follows this boundary north-south, passing small groves of aspen, oak and an ancient and huge crab apple tree, all of which thrive in the sunlight at the woodland edge. The path crosses a little plank bridge over a ditch in the south western corner of Wenlock Wood. Often dry, there is a pocket of more damp ground a short way uphill from this drain and the hollow is filled with wild iris.
The wood derives its name from the Barons Wenlock who were much involved in the neighbouring Escrick Estate. The estate reached its heyday at the beginning of the 20th Century under the then owner Lord Wenlock, the baronetcy dying out in 1932. Beilby Lawley, 3rd Baron Wenlock (1849-1912) (under whom the landholding peaked at 22,000 acres) was a British soldier in the Yorkshire Hussars, Liberal politician and colonial administrator; Governor of Madras from 1891-96. His daughter Hon. Irene Constance Lawley married Colin Gurden Forbes-Adam of Skipwith, Yorkshire and the Forbes-Adam family still retain the Escrick Estate, which they now operate as a holiday and pleasure park.
The purchasers of the woodland will be asked to enter into a covenant to ensure the quiet and peaceful enjoyment of adjoining woodlands and meadows.