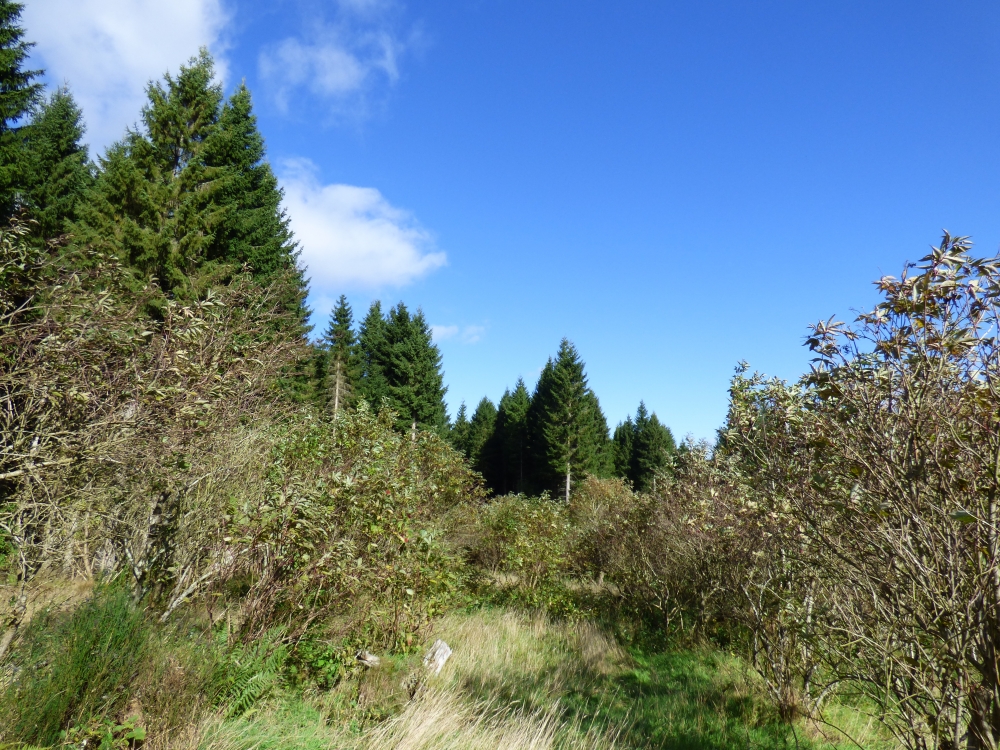 The woods at Millbank are truly delightful, providing something for everyone; from birch glades to mature towering conifers, to an impressive beech woodland in its prime.
Adare wood sits on the edge of a very well established 80 acre woodland called Millbank, which itself is connected to a much larger forest known as Scare Wood! Physical connections between woods are essential for the free movement of animals and birdlife living around the margins of human life. Deer, badgers and foxes all make use of these corridors while on their journeys.
The large central area of Adare Wood has been clear-felled in the recent past and since this time nature has been hard at work filling in the gaps in a natural and diverse fashion. Among many of the regeneration species present, red elder is prolific and provides plenty of berries for birds: red elder has many medicinal properties as well as being particularly attractive to butterflies and other invertebrates. The grassy open areas would be ideal starting points for a replanting exercise should a new owner so wish. The sunny glades would also make idyllic spots for the siting of a forestry hut.
Many self seeded trees are emerging strongly through the grasses, no doubt drifting in from the wider woodland. Toward the main track is a solid avenue of mature beech, oak, rowan and birch adding yet another dimension of age and character to this wonderful woodland.
On the far side of the wood to the track, a phalanx of towering mature pines will provide an abundance of timber for woodworking projects and firewood; fuel for the stove. Marking the boundary is a free flowing stream, Quinach Burn, yet another valuable addition to the diversity and amenity of the woodland, providing a good supply of water.
Access to the wood is exceptionally good, with the tracks having been recently and substantially strengthened with excellent local stone and will be maintenance free for many years to come. Given the convenience of easy access from Aberdeen, these woods have attracted a great deal of interest and attention and early viewing is advised.
The surrounding area is steeped in history with the close proximity of Castle Fraser and Cluny Castle, both fine examples of 16th century architecture, though the core of Castle Fraser dates back to the 1450s. Craigievar Castle in nearby Alford, a pink castle supposedly the inspiration for Walt Disney, is another local attraction as well as the Loch of Skene: the loch supports concentrations of wildfowl in autumn and winter in particular greylag geese, goldeneye ducks and pink-footed geese.
The purchasers of the woodland will be asked to enter into a covenant to ensure the quiet and peaceful enjoyment of adjoining woodlands and meadows.
There is a growing interest in hut, bothy and temporary shelter building, especially in Scotland; for those interested in erecting a hut or shelter, here is some interesting and very helpful guidance from Reforesting Scotland's Thousand Hut Campaign. Your Local Planning Authority should also be consulted.