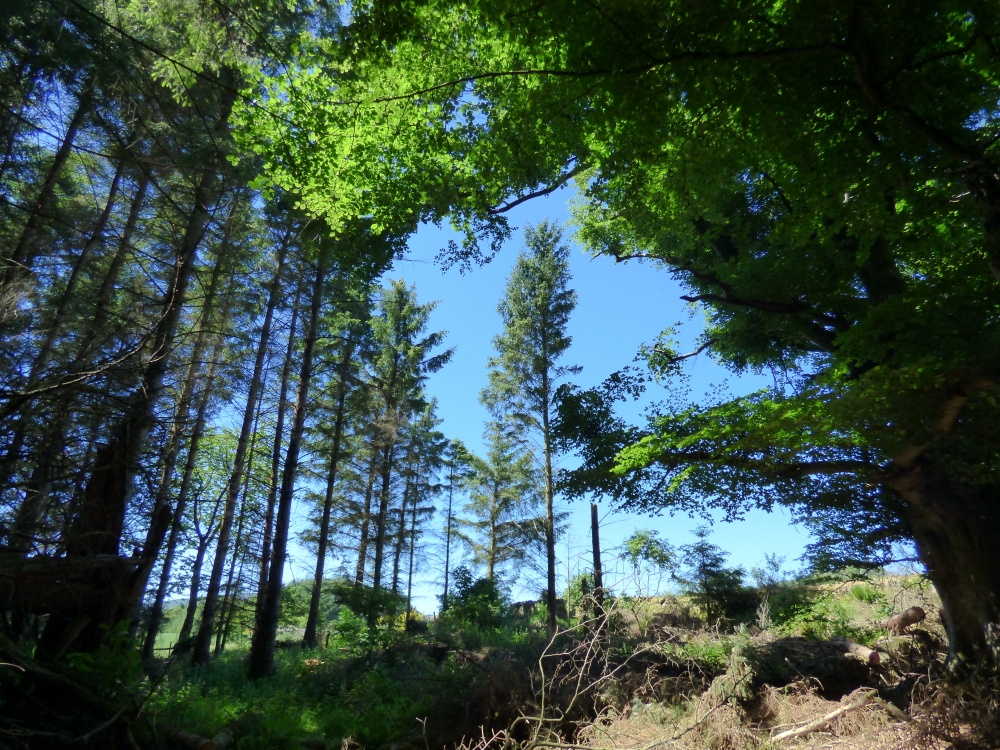 Bark Wood is a stand alone woodland surrounded by fields with fine views in all directions. The roadside trees are majestic beech trees with the occasional Scots pine and a particularly fine mature ash tree in one corner.
The main body of the woodland is mature spruce that will yield a great quantity of timber either for sale on the open market or for personal projects. There are a number of windblown trees that have been dismantled and will provide an instant supply of firewood for whoever purchases the wood.
The woodland is dissected by a drainage channel with free flowing water running through the whole length. Off this is an unusual drystone wall forming a slight embankment; its true purpose perhaps lost over time.
In the southern corner hidden within some dense conifer, a beautifully twisted sycamore emerges out of the darkness: there is something magical with this mature tree, as if one has chanced upon a hidden treasure.
This is a very private wood with its own access and will provide a haven for any future owner. For lovers of water sports, Loch Skene is nearby and is the largest lowland freshwater loch in Aberdeenshire.
Skene House has an unenviable reputation as being the former home of the Wizard Laird. The wizard lived from around 1680 until 1724 but his activities had such an impact on the superstitious local people that, even last century, fires were lit at Halloween to keep him at bay.
A gypsy traveller once said , "The travellers say that if there is something demonic about a place, the frisson will rise up your back instead of down. That is why the hackles rise at the back of your head. And that is exactly the feeling I got when I once visited Skene House, my hackles rose and I had the feeling something very evil had taken place there."
The purchasers of the woodland will be asked to enter into a covenant to ensure the quiet and peaceful enjoyment of adjoining woodlands and meadows.
There is a growing interest in hut, bothy and temporary shelter building, especially in Scotland; for those interested in erecting a hut or shelter, here is some interesting and very helpful guidance from Reforesting Scotland's Thousand Hut Campaign. Your Local Planning Authority should also be consulted.