SOLD: Braes of Bandrum Wood
£110,500
Freehold
View from the top of the brae

Panoramic views

End of summer flowers

Last of the foxgloves

Open scrubland

Imposing landscape

Blackberrries good enough to eat

Flowering berries

Ragwort

Hills in the distance

Broom pods: the next generation

Scottish thistle

Undisturbed pasture

Panorama

Mature oak

Wildflowers

Fantastic habitat

Elder, broom and oak

Path across the top

Road down from Saline

Entrance

Majestic beech

Sun dappled oak

Mature ash and oak

Hole in the sky

Drovers track

Avenue of beech

Awe inspiring beech trees

A giant's limbs
Description
These woods have great potential for a variety of enterprises that will be able to take advantage of the recent investment in a new entrance. Close to two large centres of population, Dunfermline and Edinburgh, and with the recent rise in 'staycations', this will be seen by many as a great location.
The parking area is dwarfed by the magnificent beech trees lining the start of the track. This track had been left for a few years and extensive regeneration required that a path had to be cut through it. The woodland has two distinct zones: the western section is emerging scrub that was at one time pasture land. It is here that any type of development would naturally sit, as towards the east the topography changes and becomes much steeper: home to a mature oak forest. It is here that planning permission has been granted for a network of paths when an earlier proposal had been to create a garden of remembrance. These woods are well worth a visit for a buyer with aspirations to create a business from woodland.
The purchasers of the woodland will be asked to enter into a covenant to ensure the quiet and peaceful enjoyment of adjoining woodlands and meadows.
There is a growing interest in hut, bothy and temporary shelter building, especially in Scotland; for those interested in erecting a hut or shelter, here is some interesting and very helpful guidance from Reforesting Scotland's Thousand Hut Campaign. Your Local Planning Authority should also be consulted.
Trees
Dense broadleaved woodland occupies a steep slope within the eastern section of the site. Very old beech, Fagus sylvatica, trees, which follow the alignment of an old or drove road, are now surrounded by mature sessile oak, horse chestnut with some sycamore, ash silver birch and a small number of Scots pine.The woodland understory contains plenty of hawthorn, gorse, broom, elder and wych elm bringing a very wide and pleasurable diversity to the wider woodland.
Wildlife
A wide variety of wildlife resides and visits Bandrum, including sparrow hawks, gold finch, robin, wren, blackbird, song thrush, chiffchaff and the wood warbler to name but a few, the mixture of mature woodland and scrub providing rich pickings for birds and larger mammals such as deer, rabbit and badgers.
Features
The woods at Bandrum look out across the River Forth with the most spectacular of panoramic views.
Access, tracks and footpaths
There is a newly built proper stoned access with an area of hardstanding and lockable gate that leads onto an internal track. This track then snakes up to the upper part of the wood where there is more open ground. There is also an established footpath running adjacent to the golf course that could easily be fenced.
Rights and covenants
The land comes with full sporting rights: there are no covenants attached to the land. Planning permission has previously been granted for a garden of remembrance with paths cut through the oak wood, along with a parking area and office next to the road.
Activities
This woodland really has great potential for a development that will make the most of the spectacular views, whether that is eco lodges or some form of sensitive glamping that blends in with the natural surroundings. The existing planning permission for a garden of remembrance shows that there is a good deal of scope for making use of this wonderful space.
Local area and history
Saline is a village and parish in Fife, Scotland, situated 5 miles to the north-west of Dunfermline. It lies in an elevated position on the western slopes of the Cleish Hills.The village is dominated to the east-north-east by Saline Hill, with a hill fort on the eastern summit. The smaller hill to the south of east at Bandrum has a standing stone on the peak . Steeland Moss Special Site of Scientific Interest lies approximately1km north-east of the woodland and is designated for raised bog and basin fen.
Wood maps
Wood map
Boundaries
The wood is bounded on one side by the B913 and by Saline golf course on the other which is fenced. Free standing boundary posts mark the boundary on the western side. On the eastern side, 2 acres of the original woodland has been retained by the owner (there are no boundary markers delineating it.)
Find this wood
This wood is now sold, please do not visit the wood without the permission of the owner.
Location
OS Landranger: OS No. 58
Grid ref: NT 030 917
Nearest post code: KY12 9TY
GPS coordinates: 56.1085, -3.56102
Location map
Directions
From Dunfermline take the A907 Carnock Road
Just before Carnock turn right onto the B913 to Saline
As the road rises up just before Saline the wood is on your right adjacent to Saline Golf Course
There is room to park at the entrance to the wood. Alternatively park at the golf course and walk down.
How we support our buyers
Our regional managers are often out working in our woodlands, so if you email an offer and want to be sure it has been received, please phone our manager on their mobile phone. The first offer at the stated price which is accepted, whether by phone or email, has priority.
Please take care when viewing as the great outdoors can contain unexpected hazards and woodlands are no exception. You should exercise common sense and caution, such as wearing appropriate footwear and avoiding visiting during high winds.
These particulars are for guidance only and, though believed to be correct, do not form part of any contract.
A rare opportunity to acquire sixteen acres of mixed oak woodland with commanding views over the Firth of Forth, with potential for an eco-glamping development.
Managed by Torquil Varty and Rachel Bower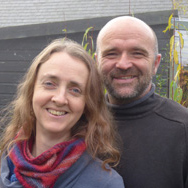 Telephone: 01307 467393
Telephone: 07803 903 203