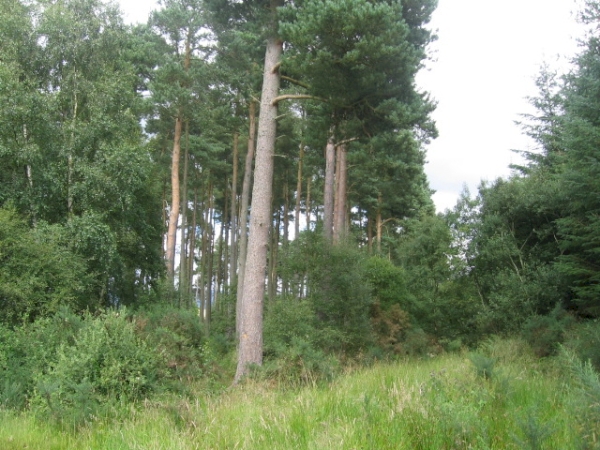 Description: Burnside Wood is a diverse area of mixed woodland that is ideal for relaxation, conservation, coppicing and camping. The tranquil eastern area includes previously coppiced birch, willow and sycamore with mature beech and oak, lining the bonny banks of a corner of the Dowrie Burn. The proximity of the burn is a very valuable asset to the woodland, supporting enormous diversity and a reliable water source for all wildlife, not to mention the attractiveness to two legged visitors too.
Towards the middle of the woodland, a small triangular area of dense spruce and a larger more open triangular area of mature Scots pine, combine to provide generous shade and sunlit clearings in well balanced proportion. The Scots pine are over 60 years old and are particularly attractive to native wildlife such as red squirrels, and having being skilfully thinned they have encouraged broadleaf regeneration beneath with native flora and fauna, including ferns and heather. The western area has been partially thinned in the past and is primarily stocked with Sitka spruce and some Scots pine planted in 1990 and are growing well. There is scope for more selective thinning in this area, providing plenty of logs for the home or campfire, and would further improve the quality of the remaining trees and biodiversity on the ground.
The land is mostly level and well drained, and the neighbouring southwestern woods provide good shelter from most prevailing winds. Situated at the northern tip of The Lady Jane woodlands, Burnside Wood has an open northwest outlook across arable fields and beyond to the Glen Esk Hills.
Private internal parking and access is provided by a fenced off and handy hardstanding turning area at the end of the shared access track.
Access: is taken from the B974 through a shared double gate entrance and then along a shared private track (marked in green on the maps), over which Burnside Wood has a right of access for all purposes.
Sporting Rights: These are owned and included with the land.
Mineral Rights: These are owned and included with the land except where reserved by statute.
The Lady Jane Woodlands: which Burnside Wood is part of, are situated in idyllic, historical and very peaceful rural surroundings. The trees are a diverse mixture of species and ages and have been sympathetically managed throughout Lady Jane's long history. Currently, mature Scots pine, young spruce and birch are dominant, but there are significant areas of mixed broadleaves including oak and alder and Norway spruce. Red squirrels, woodpeckers, pheasant, deer, hare and various fungi inhabit the woods. There are grants for encouraging capercaille.
Surrounding Area: Nearby are the tourist villages of Edzell, with its hidden "rocks of solitude" walk along the North Esk river, and Fettercairn with its working distillery. Slightly further afield are Glamis Castle and Lunan Bay beach and the fishing town of Montrose. Dundee and Aberdeen are each approximately 35 minutes drive.
The purchasers of the woodland will be asked to enter into a covenant to ensure the quiet and peaceful enjoyment of adjoining woodlands and meadows.
There is a growing interest in hut, bothy and temporary shelter building, especially in Scotland; for those interested in erecting a hut or shelter, here is some interesting and very helpful guidance from Reforesting Scotland's Thousand Hut Campaign. Your Local Planning Authority should also be consulted.